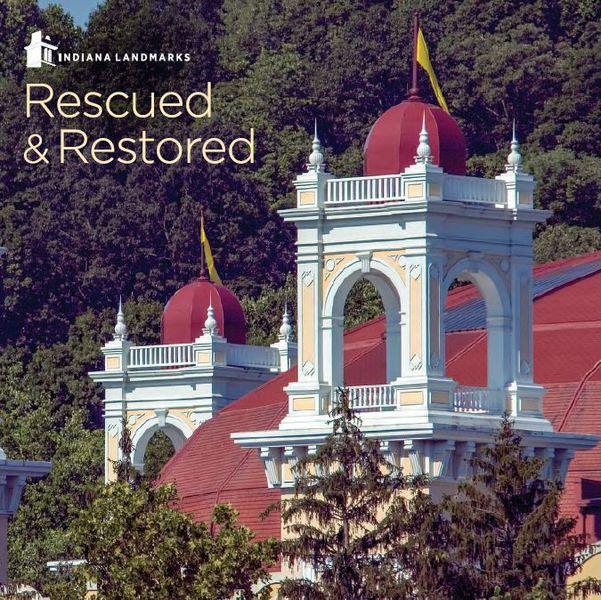 Tales of Dramatic Change Fills New Guide About Historic Locations in Indiana | Life within the valley
To mark its 60th anniversary, Indiana Landmarks in Indianapolis has released a new book of dramatic before-and-after photos and 50+ state landmarks that have been torn from the wrecking ball or taken from decades of neglect and repurposed.
"Indiana Landmarks: Rescued & Restored" tells the stories of rescues up close, dramatic transformations from ruins to splendor, and entire neighborhoods that have been revitalized through monument preservation. All proceeds from the sale of the book will support the preservation and revitalization of historic Hoosier sites.
Sights featured range from the oldest house in Wabash – small and quirky – to Indianapolis' Bush Stadium, reinvented as apartments. It includes the popular Michigan City Lighthouse Catwalk and the story of how the West Baden Springs Hotel rose from a ruinous collapse to a fairytale castle, a turning point that boosted an entire regional economy.
"Who doesn't love inspirational comeback stories?" Asks Marsh Davis, Indiana Landmarks president, who wrote the introduction to the book. "The pictures really tell the story, with a short text that gives a thumbnail of each place and how it was revived with the help of Indiana Landmarks. We hope that 'Indiana Landmarks: Rescued & Restored' can be seen on many coffee tables and stimulate conversation about conservation and revitalization, no matter where you live. "
Former Indiana Supreme Court Chairman Randall Shepard wrote the book's foreword. "We need places that give us a sense of stability in rocky times, a sense of belonging to something other than our iPads," notes Shepard.
Tina Connor, who retired as Executive Vice President of Indiana Landmarks in 2018, edited the book, weaving the stories of sites past and present through the work of the organization's talented publications and conservation staff.
"This project was inspired and driven by the indomitable Sallie Rowland, a great environmentalist and civic leader who sits on the board of Indiana Landmarks," said Davis. "Sallie, a keen observer of the positive effects of historic preservation, encouraged us to tell the story of Indiana Landmarks in a book that highlights some of the places where we played a significant role in the rescue."
The 144-page book is priced at $ 29.95 and is available at bit.ly/RescuedRestored. Or call Indiana Landmarks at 800-450-4534 or 317-639-4534 to order.
Online auction for the commemorative issue
Bid for a commemorative edition of the book "Indiana Landmarks Rescued & Restored" at an online auction. The special edition with a custom handcrafted case is signed by contributors and presented in person by Indiana Landmarks President Marsh Davis. You can bid until May 15th at bit.ly/RescuedRestoredAuction.