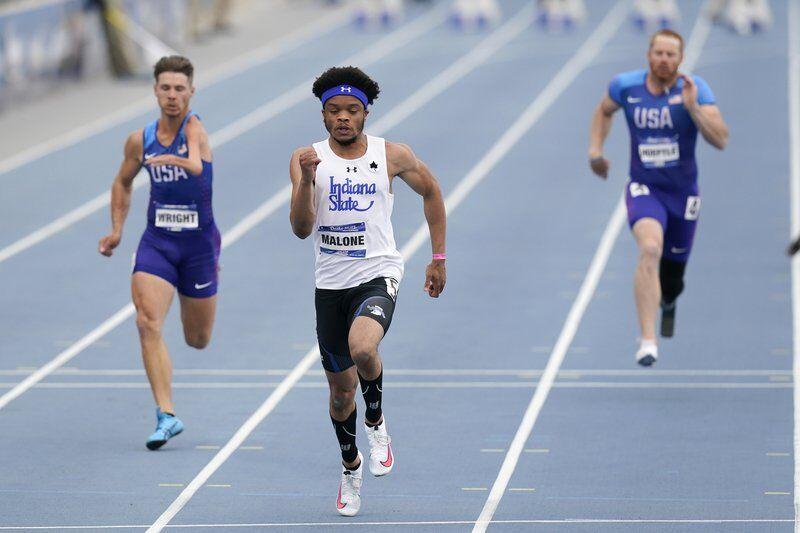 Partly blind, Malone from ISU on the best way to the Paralympics in Tokyo in August | Indiana State Sports activities
During the 2019 IHSAA Boys' Athletics Championships, Indiana national coach Angela Martin caught her first glimpse of a fast-paced Hamilton Southeastern junior named Noah Malone.
Unsurprisingly, she was impressed.
But research into Malone's background would be different for Martin than it would be for most other teenage athletes for a reason.
Malone was / is partially blind, although he has some peripheral vision
"I started talking to Noah and our assistant coach Anthony Bertoli went to his house and made a house call to his parents," recalls Martin.
"Pretty much the trainer [Bertoli] and the atmosphere that I fell in love with, "said Malone.
"Things went well, then Noah came to visit and actually started walking at one of our home meetings," added Martin. "We offered him a scholarship and he became Sycamore."
Now that Malone is a sycamore who recently completed his freshman season for ISU, he wants to become something different – a Paralympic Games medalist sometime between August 24th and September 5th in Tokyo.
"My goal is to win a gold medal and hopefully win a gold medal," he noted. "I'll just do my best race."
At last month's US Paralympic Trials in Minneapolis, 19-year-old Malone qualified for the men's 100- and 400-meter runs.
"Noah seems to really enjoy running," Martin told the Tribune star. "It's fun to have him training and he works very hard for coach Bertoli. He had high goals and his success after a year off [because of COVID-19 guidelines] was just the beginning for him.
"He has become a valuable member of our team and has placed himself with us in individual events [Missouri Valley] Conference level and the anchoring of our school record series of 4 x 100 meters. "
Malone said he was enjoying his freshman season at ISU, despite fans not being allowed to meet at home due to COVID restrictions.
"It went well in terms of performance," he said. "It was a good first year [of college]. "
Malone had the Paralympics in mind all along. Due to his visual impairment, he was eligible to take part in the 2020 Paralympic Trials.
"He never uses [the impairment] as an excuse, "said Martin," and I know we're so excited to see what he's doing in Tokyo. "
"I have a disease called liver," explained Malone, who said the disease was discovered when he was in eighth grade. "My vision is just blurry. When it comes to small details, it's a little more difficult to see. "
According to the website clevelandclinic.org "Liver Hereditary Optic Neuropathy" [LHON], or sudden vision loss, is an inherited form of vision loss. It starts with painless cloudiness or blurring in one or both eyes and then worsens with loss of sharpness and color vision. LHON influences central vision, which is required for detailed tasks such as reading, driving and face recognition. If you have LHON, you could be legally blind. "
Despite being legally blind, Malone said it was "not a problem" to see lines drawn on a regular route.
But he admits that it can be difficult for him to read from a book or the fine print and recognize faces from a distance.
Malone recently trained near San Diego but plans to return to Terre Haute this summer for additional training before the Paralympics begin.