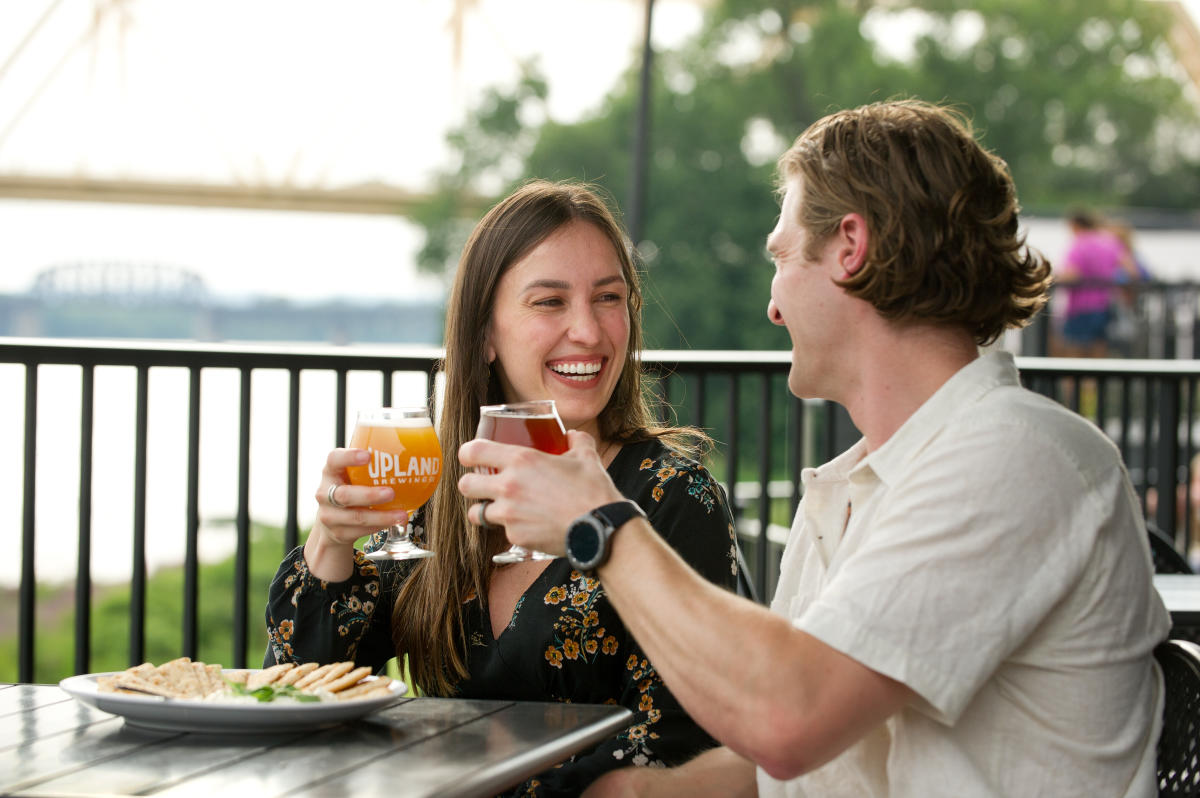 One of the best locations to eat in Southern Indiana for a beer
While SoIN is home to many breweries with a delicious menu, we would like to highlight some of our recommendations for restaurants in our area that are known for an extensive beer menu from the breweries in our own garden and from around the world.
Here's a round-up of some of the must-see beers in several busy locations in southern Indiana. We've also put together some insider tips on delicious dining options to order as you wander through the city's best restaurants for a beer.
NEW ALBANY
Pints ​​& Union
114 E. Market St.
This progressive old world pub offers beer, classic cocktails and small plates.
Drink:
Fuller's London Pride
Called the iconic ale of London, this tan premium beer features sweet raisin, biscuit and dried fruit notes from the crystal malt. The hops exude the aroma of fresh, pine-like herbs.
Eat:
Union Burger
Steamed smash burger with onions, American cheese, union sauce, cucumber and shrettuce.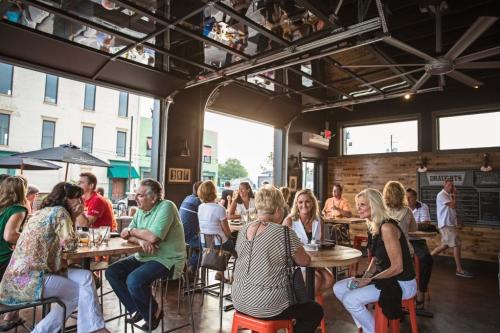 The exchange
118 W. Mainstr.
Seasonal foods, handcrafted cocktails and 12 rotating craft beers on tap.
Drink:
Rhingeist Nax
A light blond ale with a malt character. It is touted as a balanced but dry beer, the first sip of which calls for the third. With crystal and bravo hops.
Eat:
Exchange ramen
Pork tenderloin, marinated bamboo, coriander, spring onion, radish, soft egg and beech mushrooms.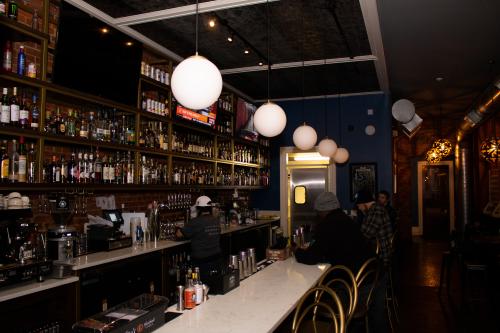 The Earl
109 E. Market St.
An old ice cream parlor has been transformed into an eye-catching bar with a terrace.
Drink:
Bell's Two Hearted
Brewed with 100 percent centennial hops from the Pacific Northwest and named after the Two Hearted River in Michigan's Upper Peninsula, this IPA is bursting with hop aromas that range from pine to grapefruit.
Eat:
Sausage board
Two types of meat and two types of cheese. Served with fig jam, olives, gherkins, wholegrain mustard, honey and dots of toast.
NEW WASHINGTON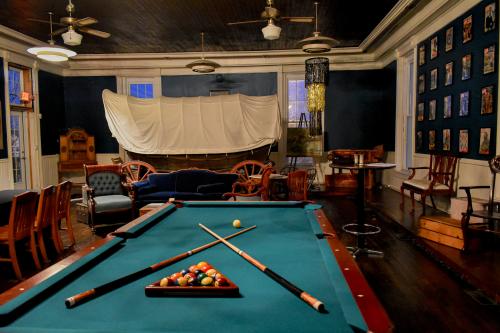 The lodge from 1894
409 E. Mainstr.
This southern Indiana, New Washington location is all about local farmers and the local community. Fresh steaks from the region and dishes made with homemade products and herbs fill the menu.
Drink:
All the rotating cans of craft they have on hand!
eat:
Hand cut rib eye (16 oz).
JEFFERSONVILLE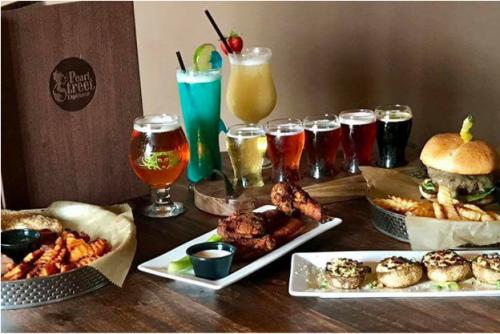 Taphouse on Pearl Street
407 Perlenstrasse
Serving lunch and dinner, Pearl Street claims to serve the largest selection of locally brewed craft beer in southern Indiana.
drink:
Fall of the Goliath King Sue
This full-bodied, hazy double IPA is hopped with citra with a juicy combination of mango, orange and pineapple aromas, rounded off with a grapefruit aroma and a wild bite.
eat:
Grilled cheese with corned beef
Corned beef, Swiss cheese and 1000 Island Slaw served on swirled rye bread.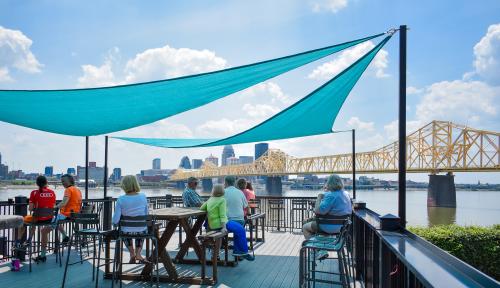 Upland Jeffersonville
707 W. Riverside Drive
Located on the Ohio River with a three-story deck overlooking the Louisville skyline. Twenty taps offer Upland classics, Seasons, Sour Ales, small series innovations and Naked Barrel Hard Seltzer.
Drink:
Upland Brewing champagne velvet
This pre-Prohibition-style German lager was brewed to a 1902 recipe by the original Terre Haute Brewing Co. in southern Indiana. It's characterized by a refreshingly light pilsner body with a sweet complexity conveyed by the corn malt of the recipe.
Eat:
Three small branches
Three-carrot seitan tenderloin, southwest tofu, ground impossible chorizo, red onion and Bad Elmer's BBQ sauce.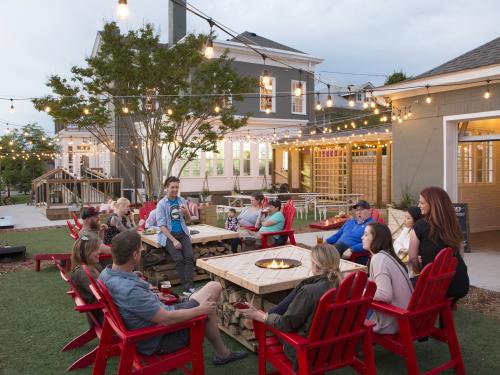 salon
131 W. Kastanienstr.
Known as the go-to place for craft pizza, smoked wings, cocktails and beer, the Parlor is located in the heart of downtown Jeffersonville at the base of the Big Four footbridge. After rebuilding a house from 1836, the place serves 13 artisanal pizzas in a flagship oven brought straight from Italy.
drink:
Fat Head's Bumbleberry Honey Blueberry Ale
A light refreshing ale with a nice blueberry aroma, cracker malt aromas with a hint of sweetness and a slightly tart blueberry finish. It's even brewed with freshly picked spring honey.
Eat:
The DR pizza
Olive oil, mozzarella, green peppers, red onions, chicken, bacon, jalapeños, tomatoes, and ranch drizzle.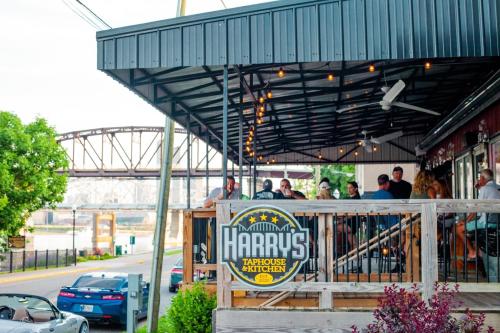 Harry's Taphouse
130 W. Riverside Drive
Enjoy relaxing river views paired with a pint of your favorite beer or a sip of bourbon.
Drink:
Weihenstephaner Hefe Weissbier
This golden yellow wheat beer has a fine-pored white foam that smells of cloves and has a refreshing banana taste.
Eat:
Chef Dale's Salad (+ strawberry vinaigrette dressing)
California blend, smoked turkey, ham, Monterey Jack & Swiss cheese, chopped eggs, diced tomatoes and bacon.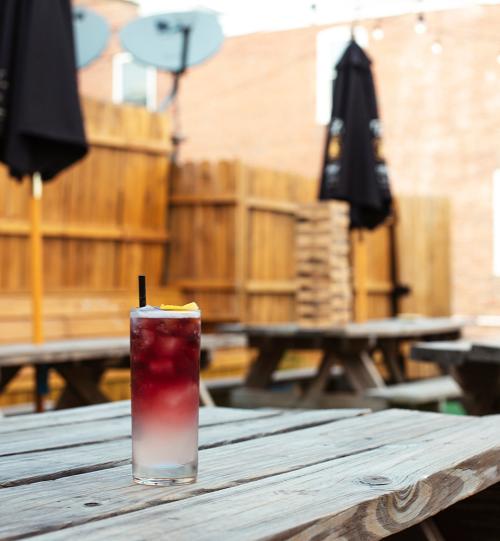 The niche
246 Fruehlingsstr.
A late night bar in downtown Jeffersonville with lots of personality.
Drink:
Ask for a mystery beer!
Eat:
Snack on some Cajun-style nuts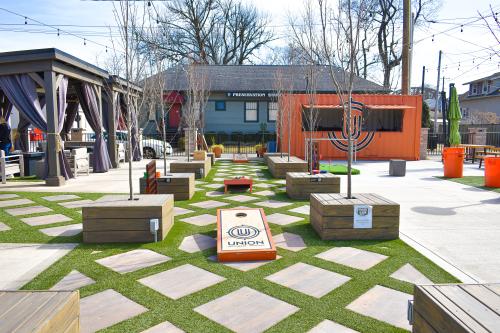 Union Restaurant & GameYard
115 W. Kastanienstr.
The spot has an imaginative food and drink menu and huge games (futpool, a hybrid game that combines pool and soccer; Uncle Rico's football, where you sit in a chair and knock down an old pigskin pins; cornhole; and table tennis).
Drink:
Sun King Sunlight Cream Ale
The American brewing tradition is celebrated with this beer that balances the gentle malt complexity with a crisp, clean finish.
Eat:
Pubs
Pulled pork, beer cheese and tobacco onions.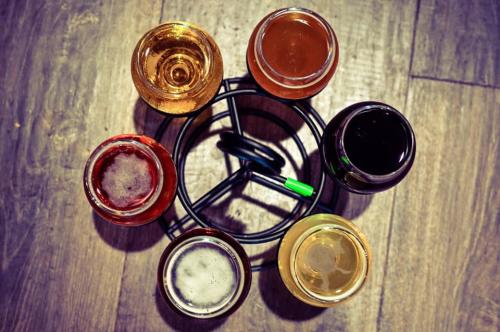 Harbor & hops
3010 Gottbrather Allee
Chef-led menu of casual and plated entrees in a family-friendly setting, paired with a wide variety of craft and imported beers.
Drink:
Reissdorf Kölsch
Lighter in color than Pilsner with a slightly malty, rather soft palate, and its dry finish is due to the high degree of steaming and the firm hop character.
Eat:
Voodoo blue
Thrown into a homemade, mild voodoo sauce topped with blue cheese crumble and thickly sliced ​​bacon. Topped with lettuce, tomatoes and onions on a potato bun.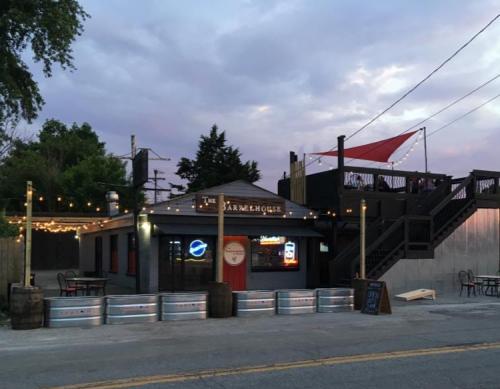 Barrel house on the market
1005 W. Market St.
This neighborhood bar is known for its specialty drinks. DJs play tunes five nights a week and food is served until 3 a.m.
Drink:
All the rotating cans of craft they have on hand!
eat:
Bavarian pretzel sticks
Jumbo Bavarian rye pretzel sticks, deep-fried. Served with beer cheese.