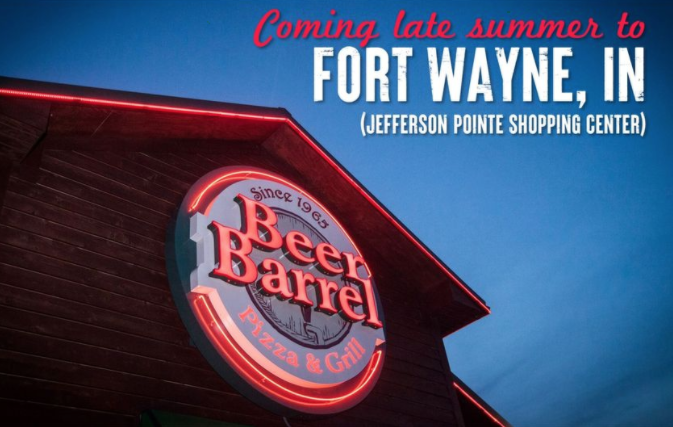 March 4th – Beer Barrel Pizza & Grill arrives at Jefferson Pointe, Fort Wayne; 07 Take-away pub reopens | Columnists
Beer barrel pizza & grill plans to open in Fort Wayne's in late summer Jefferson punch line.
The family-friendly, full-service bar and grill restaurant was founded in Ohio in 1965 and is also planning to open a third location in Lima, Ohio. In 2004 it became part of Restaurants with good food, an Ohio company founded by a longtime restaurant entrepreneur John Heaphy and his wife, Aimee. Good Food has 15 restaurants from three brands – the others are Happy Daz and Old town prime – and employs over 900 people in six cities.
This will be Beer Barrel Pizza & Grill's first foray outside of Ohio. In addition to Lima, Beer Barrel Pizza & Grill has three locations in the Columbus area and one each in Findlay, Maumee and St. Marys.
Typical dishes include flaming saganaki at the table ("Imported flaming kasseri cheese. We flame it, you scream OPA! Celebrate!") And homemade chicken and egg noodle soup. Pizzas include the 12- or 14-inch, handmade, thin, and crispy Italian Hot Honey with flavorful Italian Capicola ham and pepper-infused hot honey; Thai chicken and roasted eggplant vegetables, plus cauliflower and gluten-free crust options.
The company has cooperated with Midwestern spirits a Columbus distillery to make Michelone Reserve Beer Barrel Bourbon, which it uses in some of its beverages, including the bourbon lemonade.
07 Return to the pub
I told you that last week Bravas was back for takeout. Now another place returns in the zip code 46807.
07 pub, 3517 Broadway, announced it will reopen on March 3rd for takeaway only. The pub belongs Marcus Spillsonwhose grandfather owned Cafe Johnell and whose great grandfather had Berghoff Gardens. Spillson kept the pub closed during the COVID-19 pandemic so I'm sure his return – including take away – will be welcomed by Southsiders.
It announced hours from 4 p.m. to 9 p.m. Wednesday through Sunday. "The goal is to open up for restaurant seating in the coming weeks," it said on his Facebook page. "A limited menu will be shared soon. We recommend placing all orders online at 07pub.com.
"We really appreciate your patience, love and support during our absence. We missed our neighbors. A lot. Our employees can't wait to serve our friends and families! "
The stand opens with vegan options
That Stand Coneys & Ice Cream, 5200 Bluffton Road, Fort Wayne, opened March 1st with some expanded vegan options. Vegan Soft Serve ranges from $ 2.45 for the baby size to $ 3.99 for a large serving and almond milk shakes for $ 3.09 to $ 6.15. Vegan dishes are also available for dips and sundaes. The Veggie Dog is listed at $ 3.35, but the Vegan Hot Dogs are currently lagging behind.
"We decided to serve vegan ice cream because we received requests for dairy-free options," General Manager Ryan Palmer said. "Smoothies were the only dairy-free options we offered last year. We started the Veggie Dog in May or June last year. I'm not sure why the vegan dogs are behind. We had no problems getting it last year. "
The stand employs 20-25 people seasonally. "The majority of the staff are involved in sports in school or outside of school," said Palmer. "In our busy times, up to 8 employees work at the same time. We plan to stay open until mid or late October. "
Barns of Nappanee plans Wine and Waygu
That Barns in Nappanee, Home of the Amish Acres becomes a wine and Wagyu im Barns SteakHouse by 18 clock. 19th March. The culinary team at The Barns SteakHouse presents a 4-course meal for USD 79.95 plus 7% Indiana sales tax and 10% tip (the price on the registration page lists USD 94.09) per person with Wagyu Picanha steaks from Stutzman Bros. Meats. Classes are paired with wines from The Vines, the on-site wine shop and tasting room.
Lisa Esquivel Long is a seasoned Fort Wayne journalist and editor of the Greater Fort Wayne Business Weekly. To submit articles, email [email protected] or call 260-426-2640. ext. 3311.