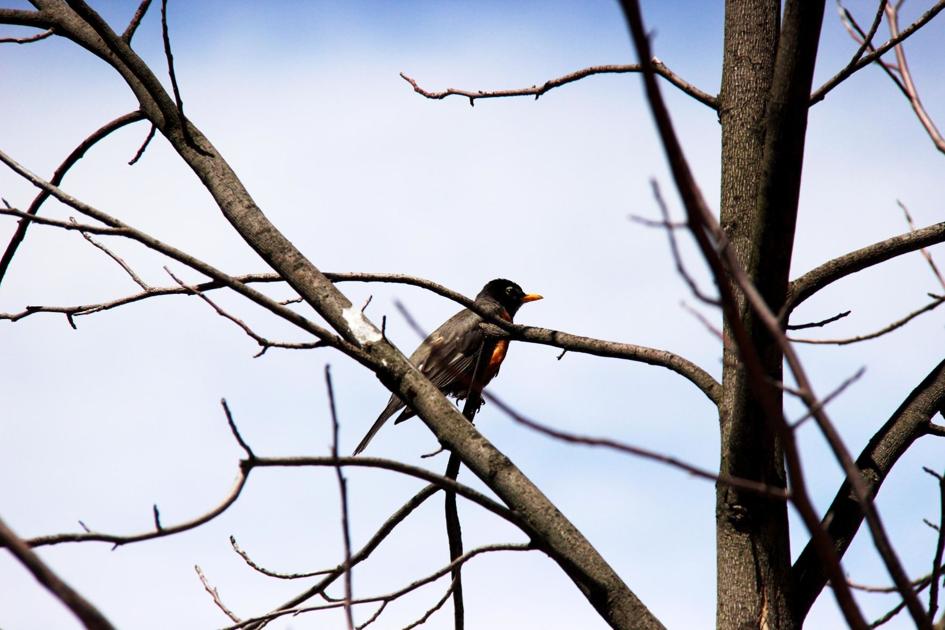 Indiana Stories Tons of of Birds Die Throughout the State | campus
The Indiana Department of Natural Resources has received reports of sick and dying songbirds from five counties: Monroe, Clark, Jefferson, LaGrange, and Lake.
The Indiana DNR is working with the Indiana Animal Disease Diagnostic Laboratory and the US Geological Survey National Wildlife Health Center to find the cause of the sudden influx of deaths.
Allisyn-Marie Gillet, a DNR ornithologist, said in a press release that several species have so far shown signs of disease, including blue jays, robins, northern cardinals and European starlings. Symptoms related to these deaths include puffy eyes, "crusty discharge" and "neurological signs".
Samples from the Indiana Animal Disease Diagnostic Laboratory all tested negative for avian flu and West Nile virus, according to the press release. NBC News said some possible causes of the high death rates are the recent cicada outbreak, pesticides and a widespread infectious disease.
Since the beginning of May, thousands of "Brood X" cicadas have emerged from their burrows in the eastern states and the Midwest, and have reappeared after 17 years of hibernation.
The 13- and 17-year-old cicadas can be infected with a disease called "Massospora cicadina". CNN, better known as "zombie cicadas," says that the belly of beetles infected with the fungus is being replaced with fungal spores. An estimated 30% of the leafhoppers are infected with the fungus. Birds tend to avoid infected cicadas, according to the Evansville Courier and Press.
Affected birds also behave as if they are blind and do not fly away when people approach them.
"They just sit still and shiver a lot," Kate Slankard, an avian biologist with the Kentucky Department of Fish and Wildlife Resources, told NBC. "It's fair to say that hundreds of birds in the state have had this problem."
States like Kentucky, Ohio, Maryland, Virginia, and West Virginia have also reported similar sightings and symptoms, according to NBC.
According to the DNR, Indiana residents should follow these practices when faced with a sick or dying bird:
Stop feeding birds until the mortality event is over.
Clean feeders and baths with a 10% bleach solution.
Avoid handling birds. Wear disposable gloves when handling birds.
When removing dead birds, wear disposable gloves and place birds and gloves in a resealable plastic bag to dispose of with household waste.
As a precaution, keep pets away from sick or dead birds.
Local residents should also use the DNR's sick or dead wildlife reporting tool on in.gov to alert DNR staff.