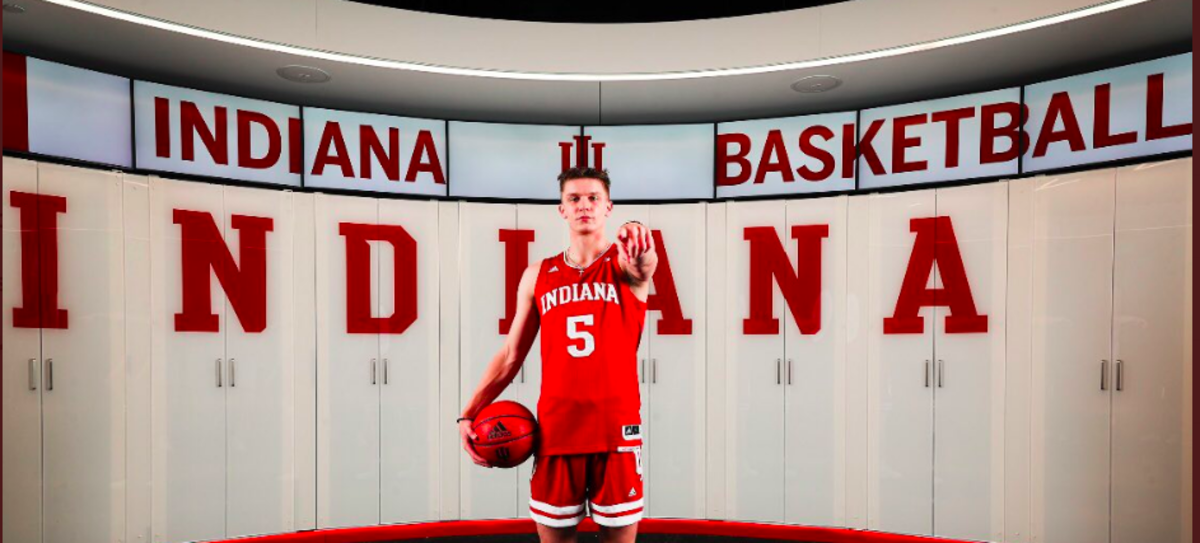 Indiana aim Justin Taylor pledges to Syracuse Rac
BLOOMINGTON, Ind. – It was Justin Taylor's birthday Saturday, but Syracuse was allowed to blow out the candles.
Taylor, a highly sought-after 6-foot-6 wingman from Charlottesville, Virginia, signed up for Jim Boeheim and the Orange on Saturday. Taylor, a four-star Guardian in the most recent composite rankings who ranks 84th nationwide, had just made an official visit to Indiana two weeks ago and had the Hoosiers in his last five. He was a primary goal for Mike Woodson and his staff.
Taylor stock has risen dramatically over the past year, with important, significant offers surfacing recently. Indiana assistant coach Kenya Hunter had been recruiting him for a while, even before the coaching change, when Mike Woodson took over for Archie Miller.
Taylor made his official visit to Indiana over the weekend of Nov. 15-17. June off and seemed to be having a great time in Bloomington. He also took officials to North Carolina and Syracuse and unofficially attended Virginia Tech state school. He is from Charlottesville and has also been to the University of Virginia many times.
He had offers from NC State, Maryland, Marquette, Connecticut and Butler, among others. Virginia Tech and Syracuse were all on sale this summer.
Taylor spoke to my Sports Illustrated Syracuse colleague Mike McAllister after signing. Here are the highlights he had to say, including comments on Indiana and how he will continue to recruit other Indiana priority targets like Kyle Filipowski. They visited Bloomington the same weekend:
Q: Why Syracuse?
Taylor: "It really just boiled down to relationships I built with the coaching staff. Being able to play for a Hall of Fame coach at Coach Boeheim and then develop with Coach G-Mac (Gerry McNamara). Especially as I was visiting, it really felt like home. Hanging out with the boys, walking around campus. It was the perfect opportunity for me to come as a freshman too. Having a good role for me while Buddy (Boeheim ) went. All the pieces just fell I think it suited me best. "
When did you know Syracuse was right for you?
Taylor: "To be honest, it was during the visit. I think it was the second day, my mother and I met with Trainer Boeheim and G-Mac in the movie room. They made a video for me that walked us through their program and then had videos of me and videos of some players in the past. Back then I could see it visually. This was the place for me. Speaking to trainer G-Mac and trainer Boeheim, it just felt like the right place for me. I took the Indiana visit after that, but I think after taking all three, no visit felt better than Syracuse. I talked to my mom, talked to my coach and it just felt like the best place for me. "
Who are you helping with Syracuse Recruiting?
Taylor: "I've spoken to both Kyle Flip (Filipowski) and Quadir (Copeland), they're both my boys. I talk to them a lot. I haven't had a chance, but I definitely will." hit her tonight. I've talked to them a lot so I think they probably knew. I've spoken a lot with Quadir, he loved his visit. I just got back from his and obviously Kyle took his place right in front of mine. I think they both loved it and I think we could build a really, really special class.
To read the full interview on our sister site AllSyracuse.com, CLICK HERE
Taylor had all kinds of nice things to say about Woodson and the Hoosiers after his visit, but it wasn't enough.
"It was a really nice visit. He (Woodson) just has so much basketball knowledge and experience. I think he can bring a lot to Indiana, " Taylor told The Daily Hoosier. My class will be the first he recruited to Indiana himself, so I think getting the guys he wants is very important to him. He's great at shooters and that's why I made them my priority because shooting the ball can make an impression because that's what they need – they need goal scorers. So I would say that the conversation with Coach Woodson caught my eye the most. "
"It was kind of weird about these visits because you feel you know all of these trainers so well, but you haven't met any of them in person, so it was good to see (Indiana Assistant Kenya Hunter) live rather than text see text or a phone call, but really just to see him in person, walking around campus, going out to eat and stuff, so it was good.
Filipowski, a 6-foot-11 power striker with reach who was Massachusetts Player of the Year last season. was on the same visit and the two are close. He's also made official visits to Duke, Iowa and Ohio State this month, and his decision is also expected to come shortly.
It's impossible to know how much Taylor's dedication means to Syracuse Filipowski.
Indiana currently has a full cast of 13 Scholarship players on its roster and so far has an engagement in the 2022 class of CJ Gunn, a guardian of Lawrence North High School in Indianapolis.
Related Stories About Indiana Basketball
SCHEDULE MEET: Indiana's basketball schedule for the 2021/22 season is almost complete. Here's what we know so far with at least 27 of the games. CLICK HERE
BATES RANK NO. 30: Sports Illustrated's final recruitment ranking for the 2021 Class is out, and Indiana's Tamar Bates is checking in at number 30. CLICK HERE