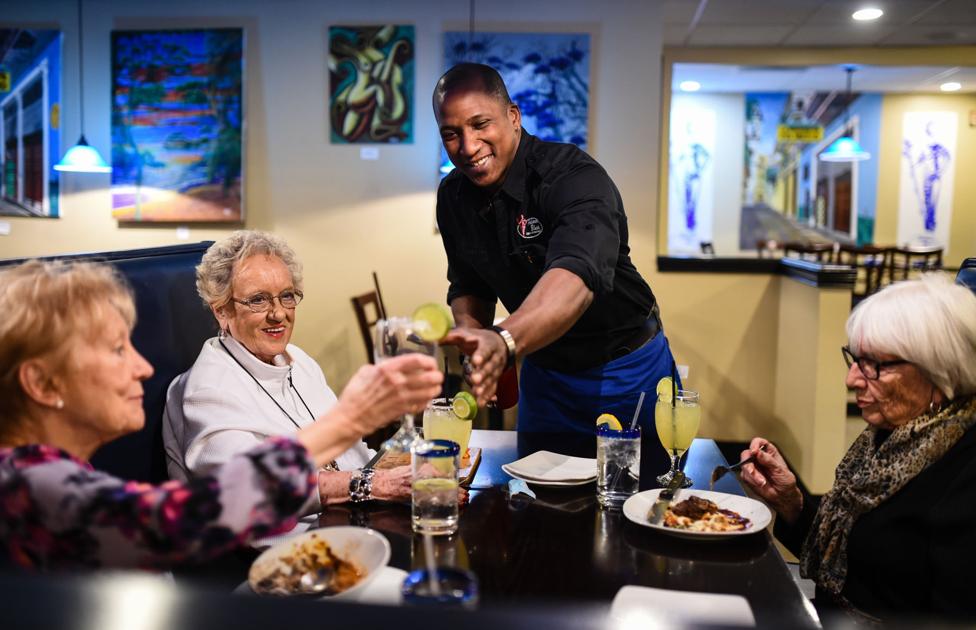 Ethnic eating places in southern Indiana supply quite a lot of flavors | information
SOUTHERN INDIANA – As the culinary scene in southern Indiana has grown, the area has seen a greater variety of food in local restaurants.
From Cuban to Middle Eastern cuisine, there are many options for authentic ethnic cuisine from different cultures on this side of the river. Here are some of the international flavors to try in Clark and Floyd Counties:
Leo Lopez, owner of Habana Blues, came to the United States as a Cuban refugee in 1996 at the age of 18 and opened his tapas restaurant in downtown New Albany at 320 Pearl St. in 2010, serving Spanish-style tapas, Cubano sandwiches , Mojitos and a variety of other Cuban-style dishes and cocktails.
Lopez, who left Cuba on a raft in 1994, was held at the Guantanamo Bay naval base with other refugees before being admitted to the United States. In Guantanamo he met his fellow refugee Ulises Garbey and now works with Lopez as the restaurant's chief server.
Southern Indiana has a number of restaurants serving authentic Mexican cuisine. La Catrina Mexican Kitchen, which opened about a year ago at 202 E. Elm St., focuses on authentic Mexican food and drinks, including tacos, tamales, pozole, and margaritas. The restaurant's vibrant murals pay homage to Mexican culture, with depictions of brightly colored sugar skulls and other images related to Día de Muertos, or Day of the Dead.
One of Roza Segoviano's inspirations for La Catrina was her love for the street vendors, which she patronized for several years during her stay in Mexico, and certain dishes on the menu come from family recipes, including "Dona Nena", a taco with potatoes, Chorizo ​​and re-fried black beans made from a recipe made by her husband's late grandmother. Food at La Catrina is the way Segoviano eats with her family, she told News and Tribune in December 2018.
Tacolicious To Go, 11 W. Market St., is a new addition to the ethnic food scene in downtown New Albany. Customers at the quick-service taco shop can choose from meats like steak, chicken, chorizo, and pork with a variety of other toppings for an authentic taco, and the restaurant also serves iced Mexican drinks like mangonadas and horchata.
Chef Israel Landin offers fresh, creative dishes from different regions of Mexico at the Israeli Delicias De Mexico Gourmet on 1515 E. Market St. in New Albany. The food in his restaurant ranges from enchiladas with mole sauce to shrimp platters. In Clarksville, Taqueria Don Juan, 615 Eastern Blvd., offers authentic Mexican tacos, ceviches, soups, micheladas, and aguas frescas.
Some restaurants in southern Indiana present bold, tangy flavors from the Caribbean islands. In Jeffersonville, Reggae Reds offers Caribbean-inspired fast food, including chicken and prawns topped with jerks and side dishes like yams and plantains, and Naila's Caribbean cuisine in Clarksville brings the diverse flavors of Trinidad to southern Indiana. Owner Nadia Jones moved her family from Sangre Grande, Trinidad to Louisville in 1970, and she started the restaurant in 2016 with her mother Naila as the main cook.
The Naila menu features tasty dishes such as beef patties in pastries, doubles (deep-fried dough with curry chickpeas), braised meat, curries, fried fish and more. Jones told the News and Tribune in 2016 that she wanted the restaurant to feel like one of her Trinidadian family meals, where "everyone just eats, gets fed and just enjoys each other's company."
Aladdin's Mediterranean & Middle Eastern Cuisine in downtown New Albany is a family-run restaurant on 37 Bank St. offering home-style cuisine with classic Mediterranean dishes. Owner Mike Sajaja, who is originally from Jordan, runs the restaurant with his family and serves dishes such as gyros, shawarma, kebabs, falafel and hummus with local and imported ingredients from the Middle East or the Mediterranean.
At Aladdin's, customers can also enjoy fresh baklava and Turkish coffee, and in one corner of the restaurant there is a "bazaar and juice bar" with fresh juices, smoothies, homemade vegetable mixes and imported food products.
Dragon King's Daughter started from its original location in Louisville, but at its second location at 129 E. Market St., New Albany, owner Toki Masubuchi has offered an even broader taste of Japanese cuisine at the Asian fusion restaurant. In addition to a large selection of sushi, guests of the New Albany restaurant can enjoy Robata, a Japanese grill style, in the lounge area.
In September 2016, Christine and Peter Kim opened the Kim & Bab Korean Bistro at 3012 Charlestown Crossing Way in New Albany. The restaurant serves dishes such as bibimbap, a Korean rice dish with vegetables, fried egg and sesame seeds, as well as various vegetable and tofu dishes. The bistro also offers Iced Boba or Bubble Tea.