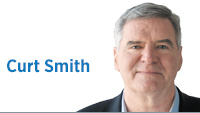 Curt Smith: Indiana is about to emerge sturdy from the pandemic
As vaccinations prevail and the pandemic recedes, the looming contours of this life-changing, generational disaster suggest Indiana will be stronger and better off than most states.
Regular readers will not be surprised by such optimism. That column predicted so much in April 2020.
"Predicting a pandemic is foolish. It is downright foolhardy to do this closer to its beginning than its graduation. But I will make a prediction that I am confident will hold up well in the days to come, "I wrote. "Indiana will do far better than most other states because of our unique character."
These key observations have held up well over the past 14 months, with the exception of the lack of social unrest at the time. The murder of George Floyd by police in Minneapolis in late May 2020 sparked rioting here and in many other places.
But what, beyond optimism, is the basis for such a view as we begin to assess the long-term implications of such a significant turning point?
Let's start with the resilience of the Indiana economy. While many Hoosiers struggled initially, quick action by Congress and the President gave us time to adjust. Despite dire and well-founded predictions of government budget deficits, high unemployment, and massive economic turmoil, indicators today point to a strong Indiana economy.
State budget forecasters reported an unexpected, staggering $ 2 billion gain in mid-April when lawmakers finished drafting the new budget. This reflected far higher sales and income tax levies, both of which are great proxies for economic activity.
In light of this, it is not surprising that our unemployment rate is currently 3.9%, below the 4% threshold that many economists consider "full employment". We still have to replace all lost jobs nationwide. After all, Indiana unemployment peaked at 16.9%. But we're close.
Central Indiana also shone for the nation when we hosted the 67-game March Madness tournament. The COVID-19 crisis did not prevent us from carrying out a complex event taking into account the health of participants and spectators.
Recently, on a scenic Memorial Day weekend, Indianapolis Motor Speedway hosted 135,000 car racing enthusiasts in the largest gathering of fans in one place since the March 2020 pandemic. This time the world, not just America, saw us with our best Foot forward. Drivers and racing teams from a dozen countries took part in what is probably the most famous car race in the world.
Our executives in the healthcare sector, especially Roche and Eli Lilly and Co., made a sensible contribution to bringing the pandemic under control early on.
That doesn't mean the crisis is over and everything is fine. Approximately 750,000 Hoosiers have contracted COVID and perhaps 13,500 have died from or due to the disease. The level of gun violence – possibly exacerbated by the pandemic – in Indianapolis is insane. Mental health indicators show that we have lost ground in the last year (think addictions, domestic violence, and the like). The test results show that distance learning helped but was inconsistent with learning in the classroom. The long-term health problems for Hoosiers with the disease also remain uncertain, not to mention the grief we all experience for the lost and what the pandemic has taken from us.
Still, resilient, resourceful, and respectful Hoosiers met and mastered the first year of the pandemic. Many more changes are imminent. Many daunting challenges remain, particularly overcoming learning loss in K-12 students and reversing the decline in mental health.
But Indiana has many things to be proud of as we assess our position and look to the future. We have a stronger platform than most to get to the new normal in a post-COVID or at least COVID-driven society.
__________
Smith is the chairman of the Indiana Family Institute and the author of Deicide: Why Eliminating The Deity is Destroying America. Send comments to [email protected]
Click here to see more Forefront columns.