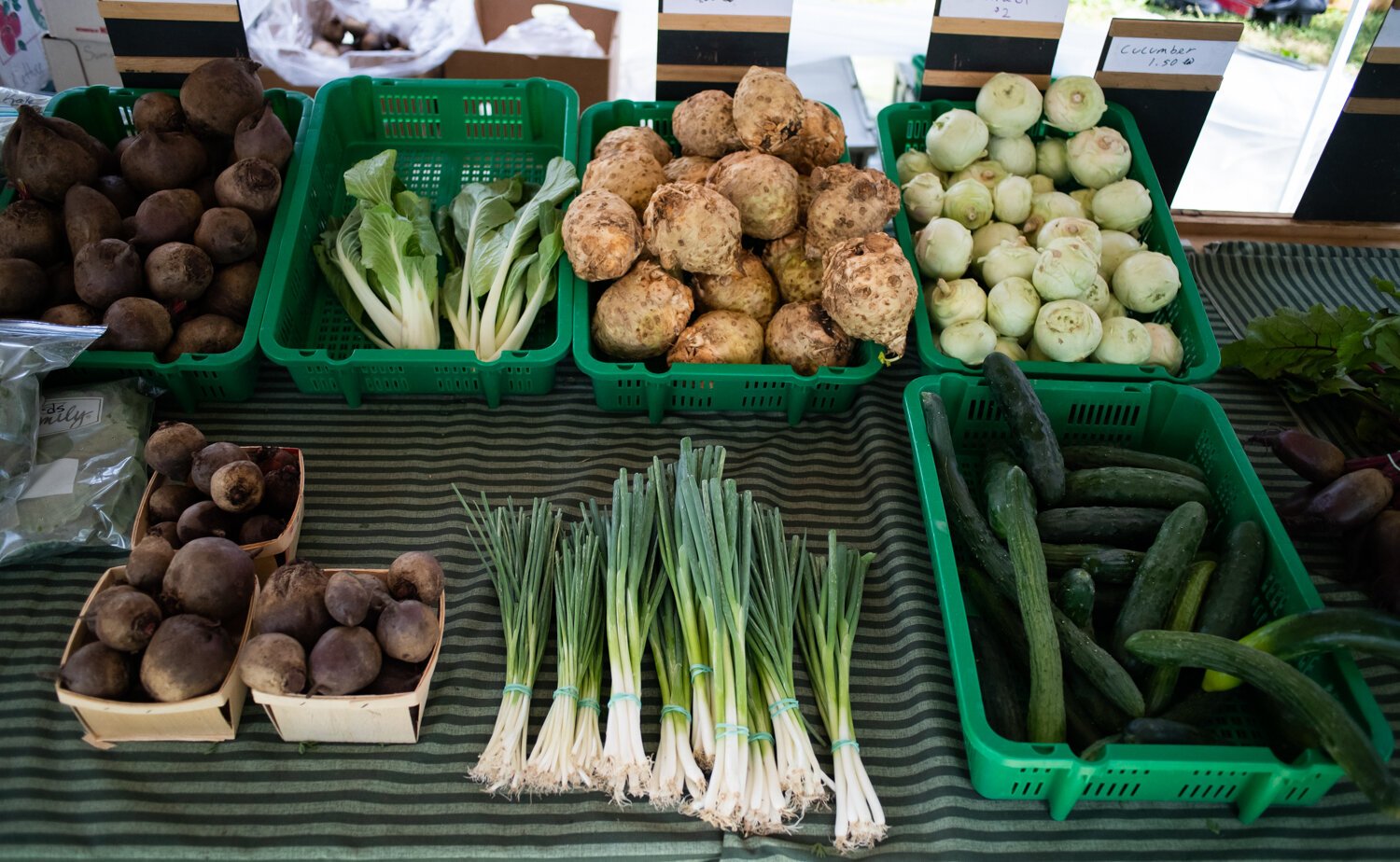 COVID-19 meals challenges enhance demand to localize Northeast Indiana's meals system
This story is part of Input Fort Wayne's Solutions Series, made possible by support from the United Way of Allen County, the NiSource Foundation, NIPSCO, Brightpoint, and others in Northeast Indiana. The 10-part, 10-month series explores how our regional community is addressing residents' essential needs during the pandemic. Read the first story here.
Carmen Cumberland has seen firsthand how the COVID-19 pandemic has redefined food insecurity and scarcity in Northeast Indiana. 
As Executive President of Community Harvest Food Bank in Fort Wayne, her team's food distributions increased 46 percent in 2020. 
"Pre-COVID-19, 79,900 individuals were identified as food insecure, according to Feeding America's figures," she says. "Then through the pandemic, those numbers went up to 112,000 people." Carmen Cumberland
According to Cumberland, the scope and size of Northeast Indiana's food needs have shifted greatly during the pandemic, too. In the past year, she estimates that about 65 percent of families relied on the food bank's assistance to meet short-term needs, and 35 percent depended on the aid to sustain longer-term needs. That compares to pre-pandemic levels when only 20 percent of families needed help beyond the short-term. 
Cumberland believes the families her team serves have seen a brief reprieve in recent months due, in large part, to stimulus checks and other government aid. But she doesn't expect that to last long. 
"I imagine in July or August, we'll start seeing an uptick again because people may be going back to jobs, but if they did fall behind (during the pandemic), they still need to catch up from that time period," she says. "They're going to be relying on assistance for probably a year or two before they can totally be grounded again."
In many ways, the pandemic is changing the face of food insecurity in Northeast Indiana. Before last year, many of the people who came through the food bank's doors were living on the brink of poverty, earning too much to qualify for food stamps, but not enough to meet their families' needs. Now that more residents are falling into that gap, more attention is being directed to meet this population's needs.
"What I think happened during COVID-19 is that it brought the realization that (food insecurity) can happen to anyone at any time," Cumberland says. "I think that's why we got the support we did from the community—donors might have known someone who had to utilize our services for the first time."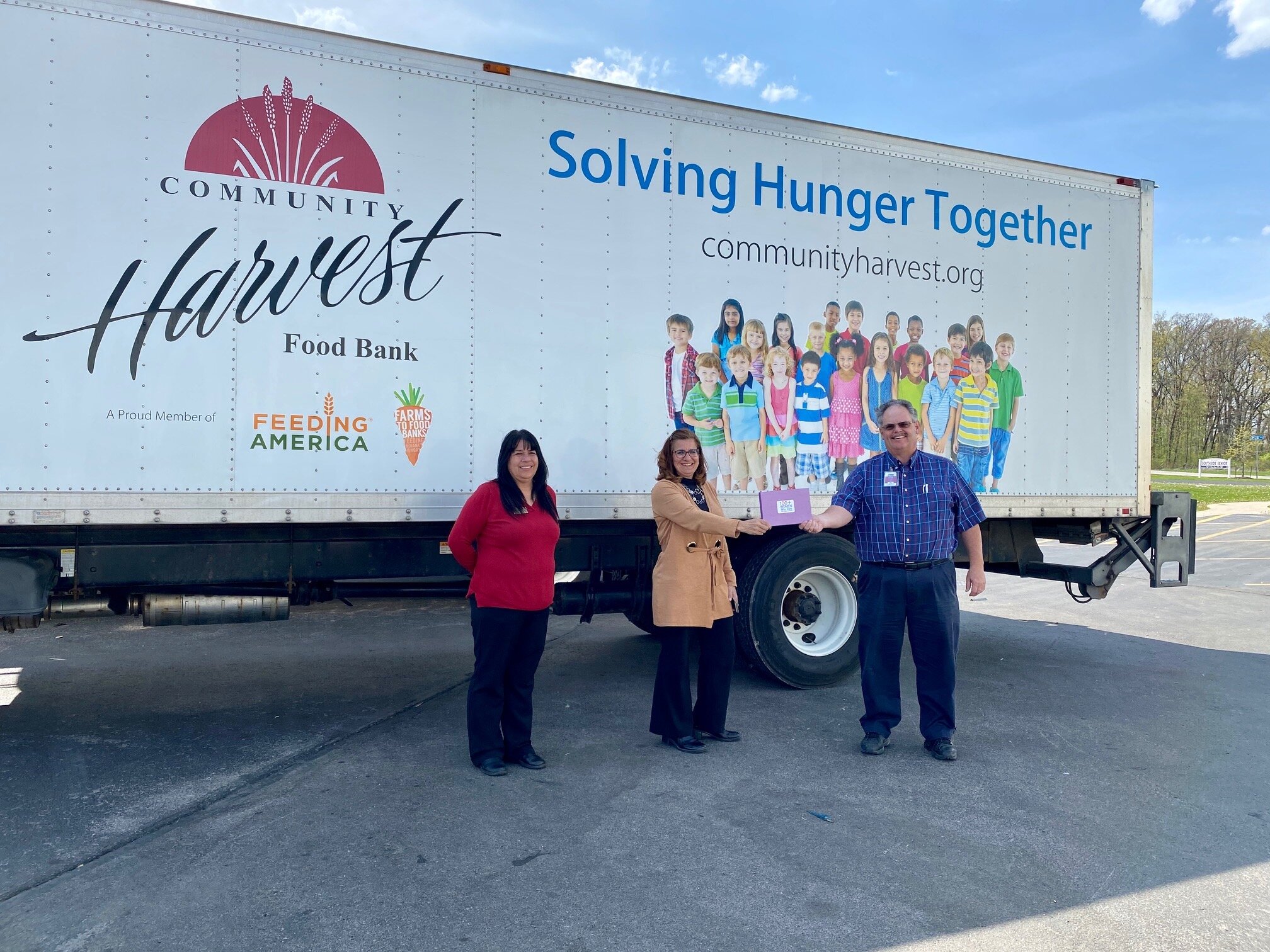 The organization 100+ Women Who Care donated $30,000 to the Community Harvest Food Bank.
But while awareness of food scarcity and the urgency to address it are increasing during COVID-19, challenges and barriers to food access in Northeast Indiana long predate the pandemic. What might appear to be a short-term need for food is actually indicative of longer-term, larger-scale issues with food systems in Indiana and beyond. 
***
As a national food systems analyst, author, and President of the Crossroads Resource Center in Minneapolis, Ken Meter is no stranger to gaps and challenges in U.S. food systems. A former journalist, Meter has studied how food systems have been largely outsourced from local family farms to corporate conglomerates, which often prioritize profits over people. He says his work is not necessarily about criticizing large-scale systems; it's more about questioning the resiliency of current food systems in the U.S. and asking if there's a better way to design systems that meet the true needs of consumers and reflect the uniqueness of diverse regions.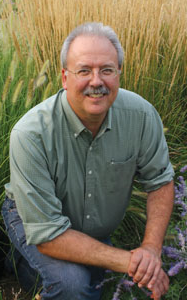 Meter
Over the years, Meter has conducted research in 144 regions across the U.S. In 2012 and 2016, he was hired to do two studies in Indiana. The first was a statewide study commissioned by the State Health Department to examine the impact that Indiana's agricultural practices are having on its health. The second study was commissioned by the Northeast Indiana Regional Partnership to develop a strategic plan to support a local food network here.
As cities across the country face food shortages and the prospect of more families on the brink of hunger during the pandemic, Meter worries that programs like those offered at food banks won't go deep enough to address the underlying causes of hunger in communities, like drastic income inequality and food deserts. Oftentimes, food shortages that surface in times of crisis point to a deeper, pre-existing lack of access to healthy, affordable, and local food in communities. 
 
"In the short term, it's easy to say we're going to make sure (no one goes hungry), but over the long term, we have to really make an investment in lots of systems," Meter says. "What we're doing is coping with the inequality—not just in the food system, but in our whole economy. As long as wealth is unequal as it is, we're going to have a significant slice of people who are more and more troubled at getting good food."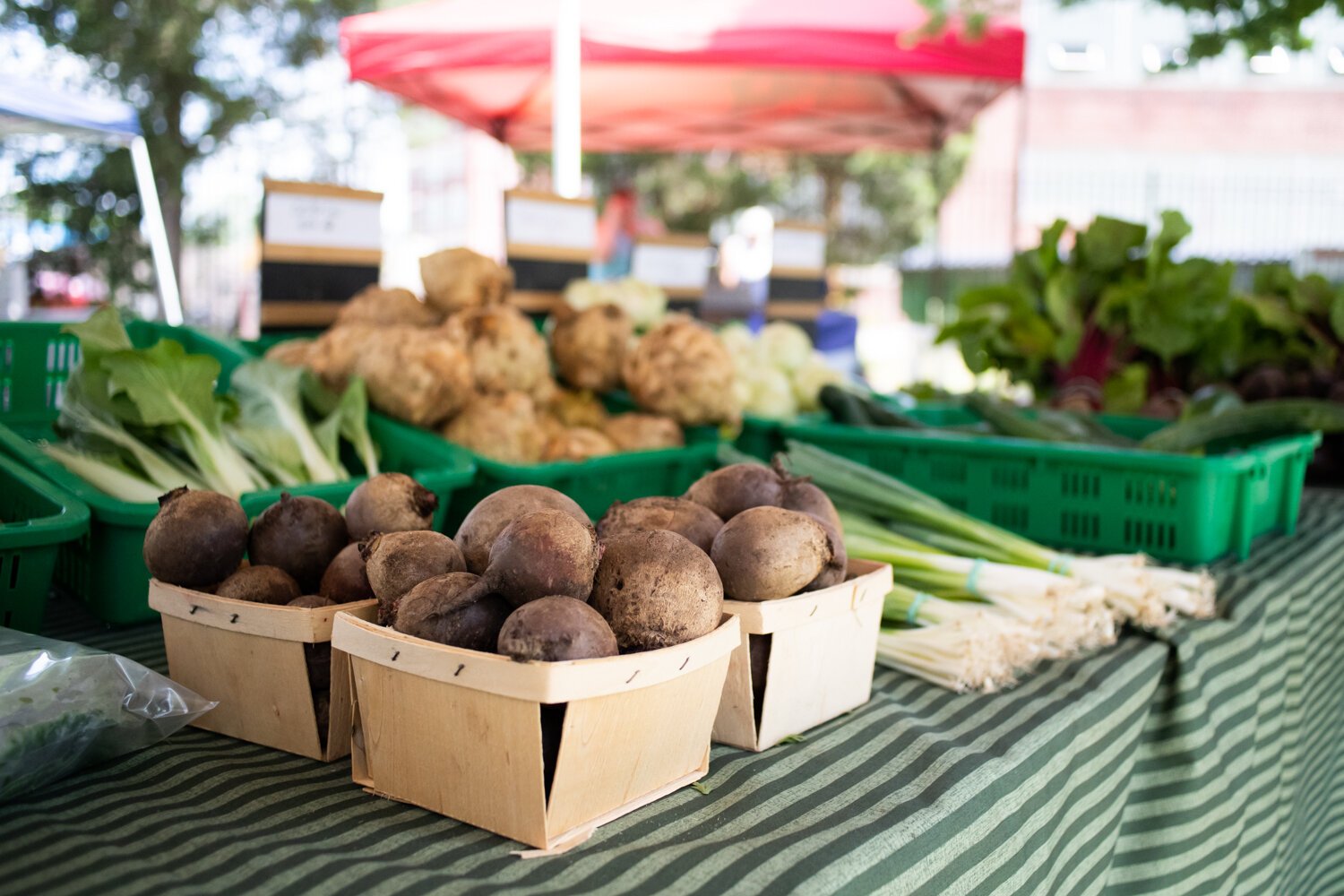 Fresh produce is displayed at the Berry Hill Farm table during the Fort Wayne's Farmers Market at McCulloch Park on Saturday June 19, 2021.
To reduce inequality in communities and to curb future crises, Meter says there's a need to assess systems and to develop plans that ensure "everyone's taken care of." In the realm of food, this often means moving supply chains from their highly outsourced models back to the hyper-local level, where local farmers are growing, producing, and selling food for their neighbors.
To this end, he does find some recent developments at food banks encouraging.
"There's money coming down the pipeline for food banks to expand their facilities to have more cold storage and more freezer storage, so they can actually build up a supply of food that's quite robust," he says. "That means in (the event of) future emergencies, we can have healthier foods that have been grown by real farmers and preserved safely for emergency use."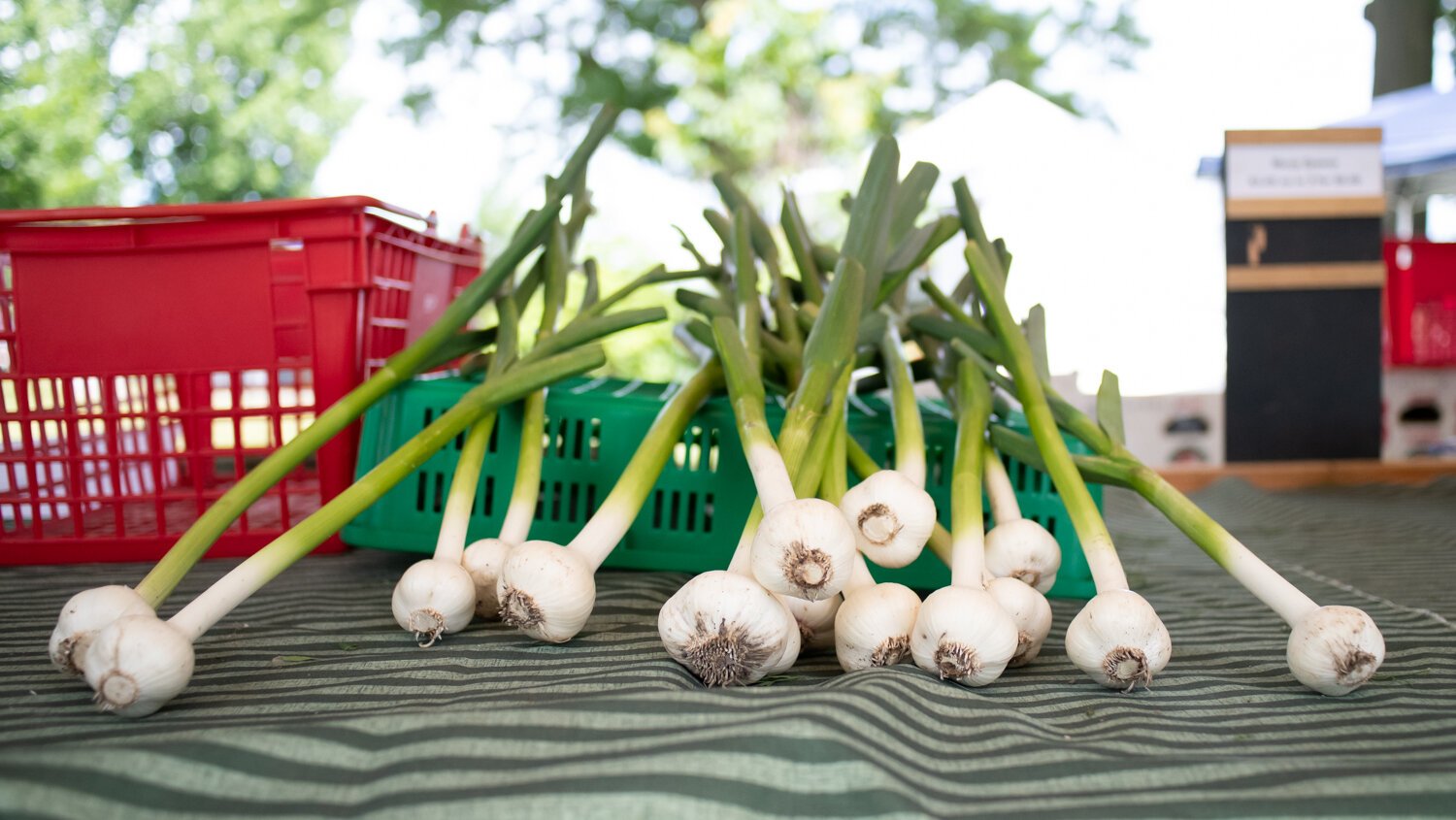 Fresh produce is displayed at the Berry Hill Farm table during the Fort Wayne's Farmers Market at McCulloch Park on Saturday June 19, 2021.
Speaking of produce, Meter addresses a commonly-held misperception about the Hoosier State's agricultural sector. Despite being the eighth-largest agricultural exporter in the nation with a reputation as a "breadbasket," Indiana mostly exports corn—a product largely used to feed animals or worse, feed into the global demand for corn byproducts, like ethanol and high-fructose corn syrup.
By contrast, Hoosiers spend roughly $16 billion per year on food, yet more than 90 percent of these expenditures are going to farmers and producers out of state—even out of the country. When it comes to fruits and vegetables, 98 percent are imported.
"And that's a conservative estimate," Meter says.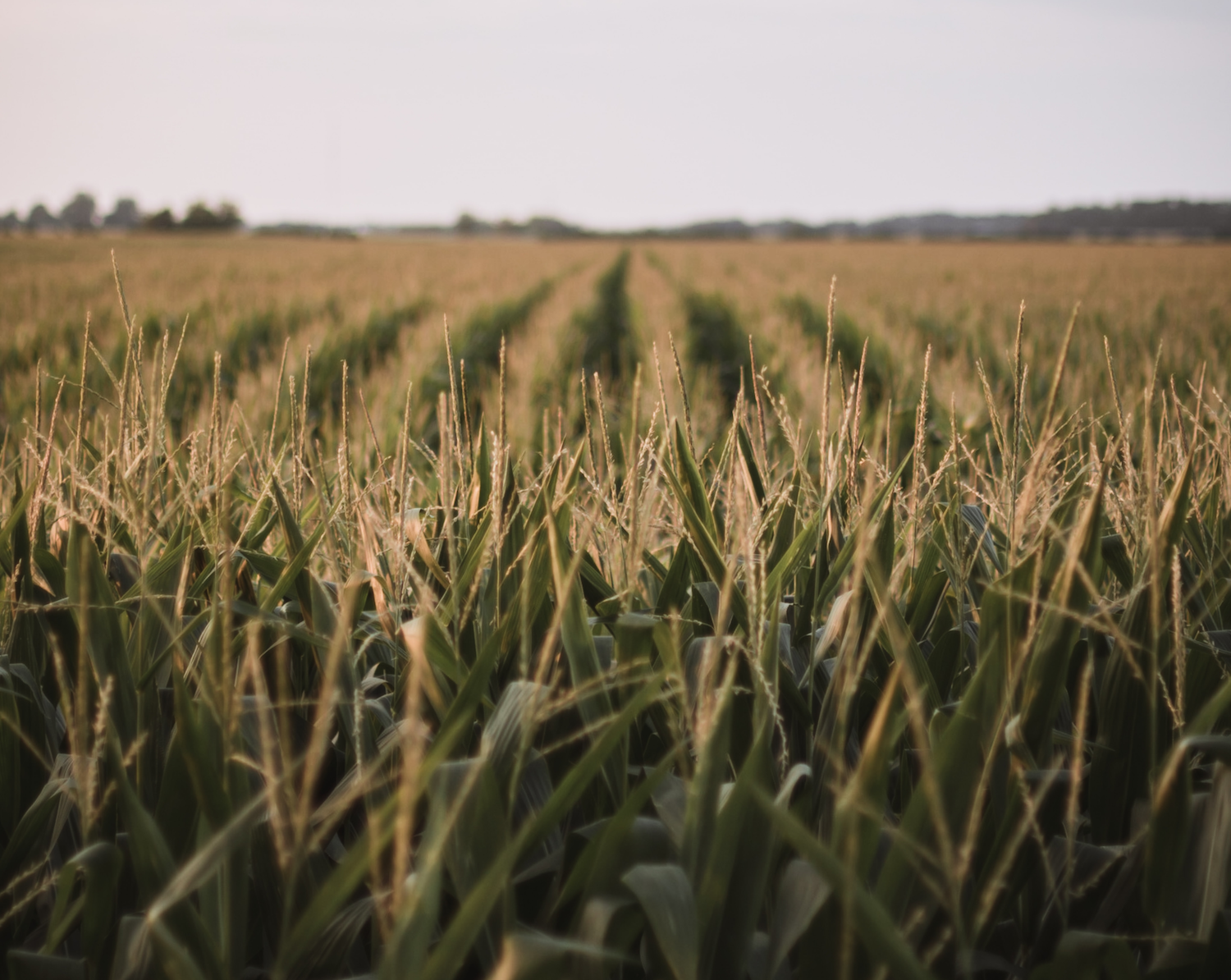 Indiana ranks fifth in the nation in corn production.
Meanwhile, Indiana farmers only sold about $11 billion of commodities, mostly for export.
"We're selling commodities abroad, and that's different than raising food that people can eat right away," he says. "And it's different than having a lot of people really buying food from nearby farms or meat processors who are dedicated to processing these for local consumers. Those things (indicate) pretty big gaps in the food system because we've really focused on exporting commodities abroad and not on how we can build the infrastructure we need to sell food to the people nearby."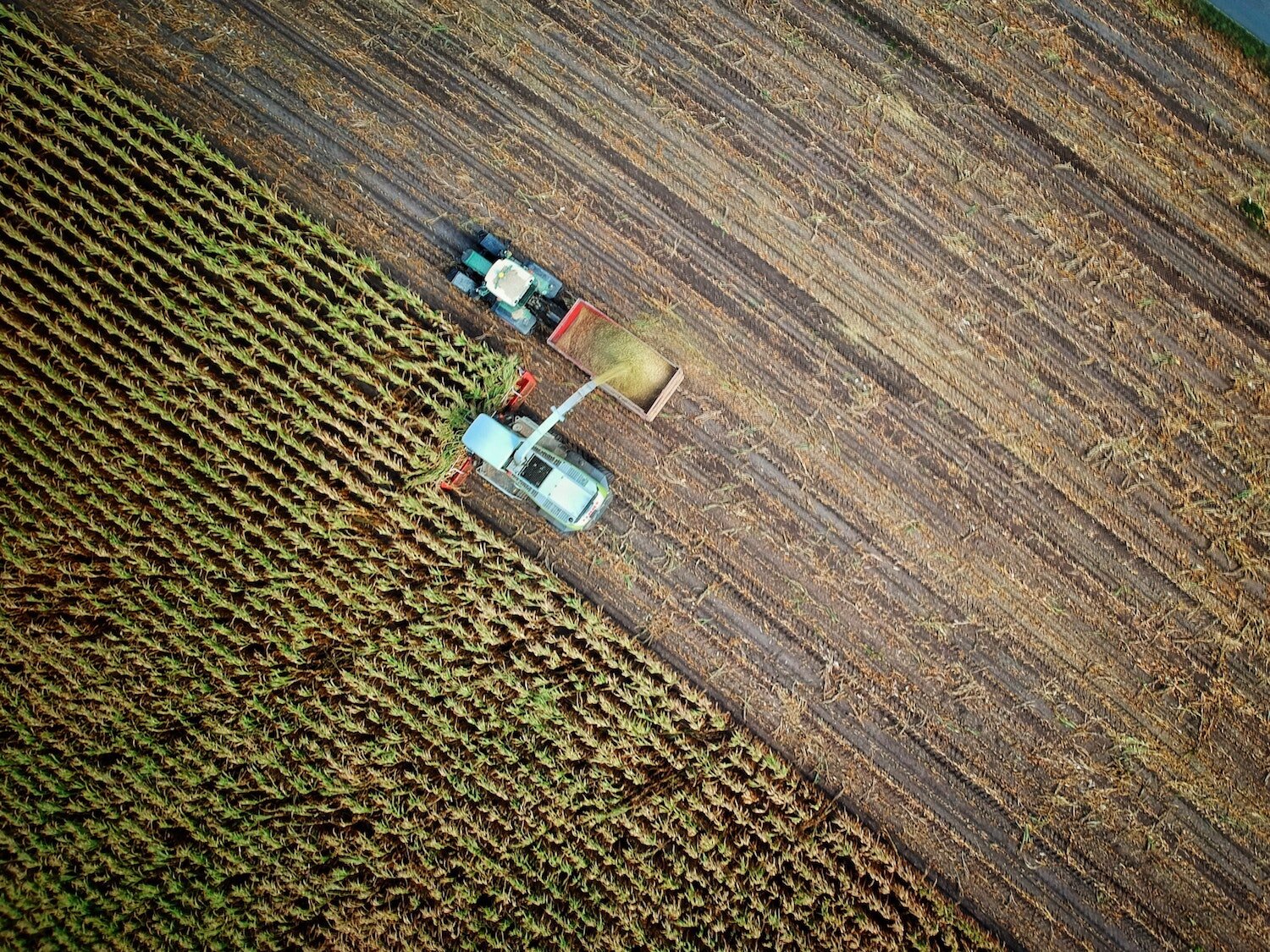 Public policy in Indiana has favored efficiency and expansion, too, decreasing the value of food and making mid-sized, diversified farms nearly extinct.
And when global crises like a pandemic threaten national and international supply chains, this lack of local food alternatives leaves Indiana residents in the lurch.
Better preparing for the future will require changing systems to create long-term solutions.
***
Dennis Wood of Wood Farms, who owns a cattle operation near the Fort Wayne International Airport, agrees with Meter. He's been in the business for 40 years in some capacity and has seen how increased consolidation in the cattle industry has created often-unpublicized challenges for local farmers, consumers, and communities alike. 
"We have cattle, but we're not a major cattle-producing region here," Wood says. "The industry has moved into states like Kansas, the panhandle of Texas, and some parts of Oklahoma where they have put most of the packing plants and have made it a consolidated industry."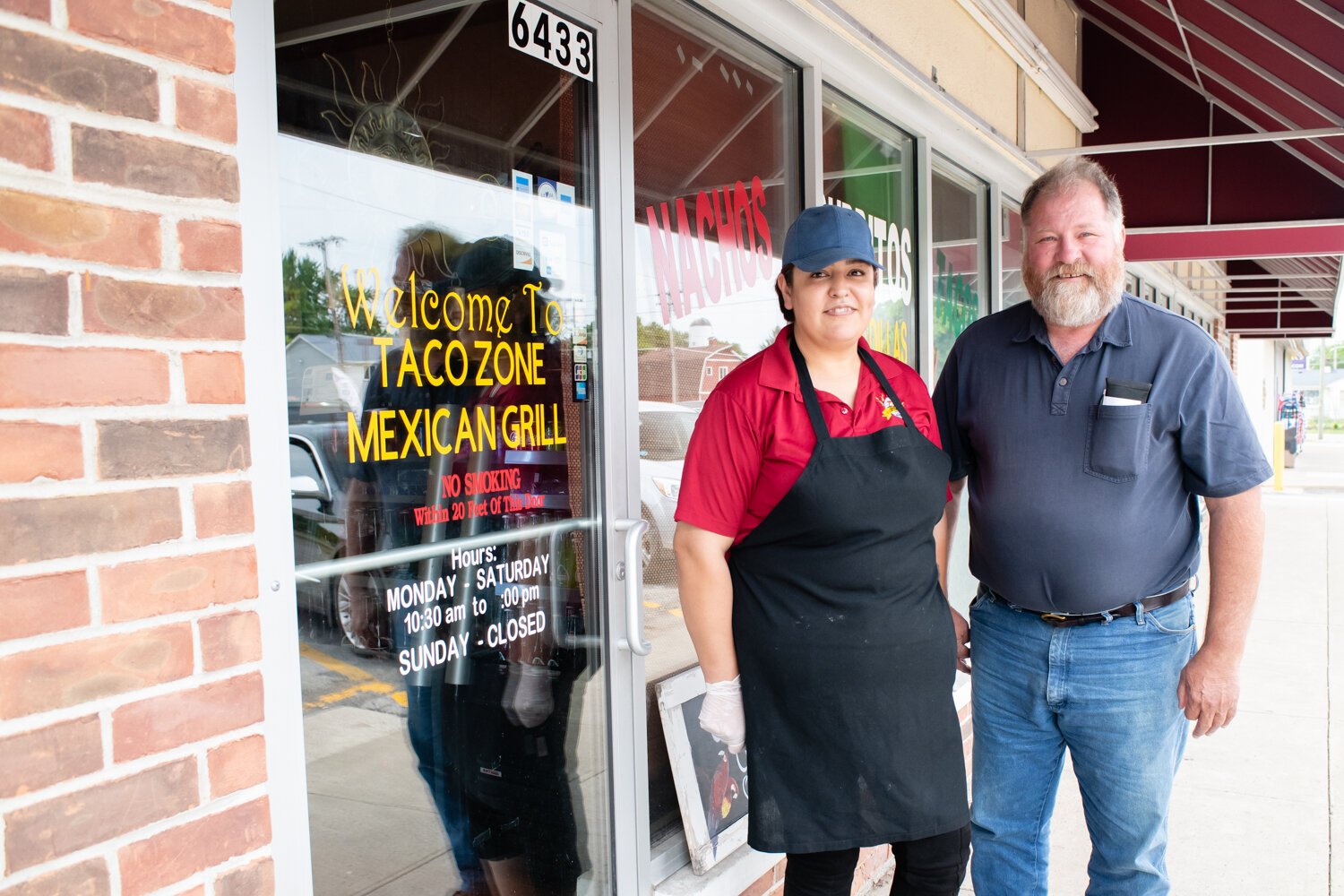 Wood Farms' owner Dennis Wood sells beef and pork to local restauranteurs, like Lizet Colin, Owner of Taco Zone at 6433 Bluffton Rd.
During the pandemic, this consolidation of the meat industry resulted in supply chain shortages and skyrocketing prices as large producers hiccupped and factories that prioritized profits over people had to close due to widespread challenges with the virus.
Despite these increasingly obvious flaws in consolidated systems, Wood says the current food system is difficult to challenge because large, international companies and lobbyists have a financial stake in Big Ag businesses and their continuation.
Still, Woods finds one emerging trend from 2020 encouraging. 
"For about 40 years, the American consumer fell asleep on what was going on in the agricultural sector," he says. "Then all of a sudden, they started waking up. American and Fort Wayne-area consumers are very interested in how their food is produced, processed, and handled. And they need to continue to be interested, observant, and inquisitive about how their food is produced for the (sake of the) people who are involved in producing it."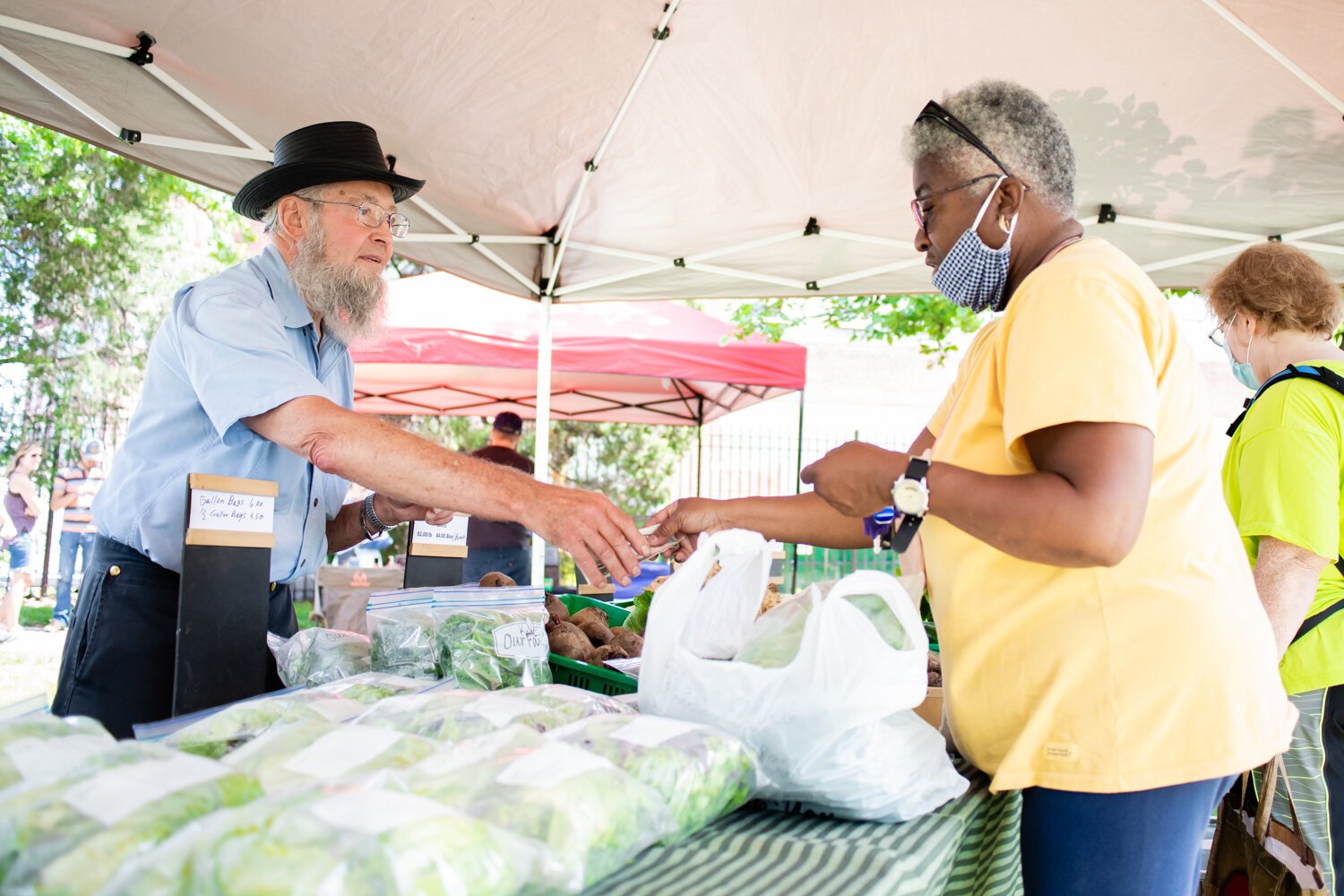 Marvin Metzger with Berry Hill Farm helps customer Alma Moody during the Fort Wayne's Farmers Market at McCulloch Park on Saturday June 19, 2021.
Like Woods, Myron Metzger is a local producer who makes the case for more consumer education about the value of local food compared to outsourced food systems. Metzger owns and operates Berry Hill Farm in North Manchester. Though he says his business was largely unaffected by the pandemic, there's still work to do on the part of the public to strengthen Northeast Indiana's local food network.
"There's a need for bringing awareness to consumers (about) the availability of food and the need to support local producers from a local economic standpoint," he says.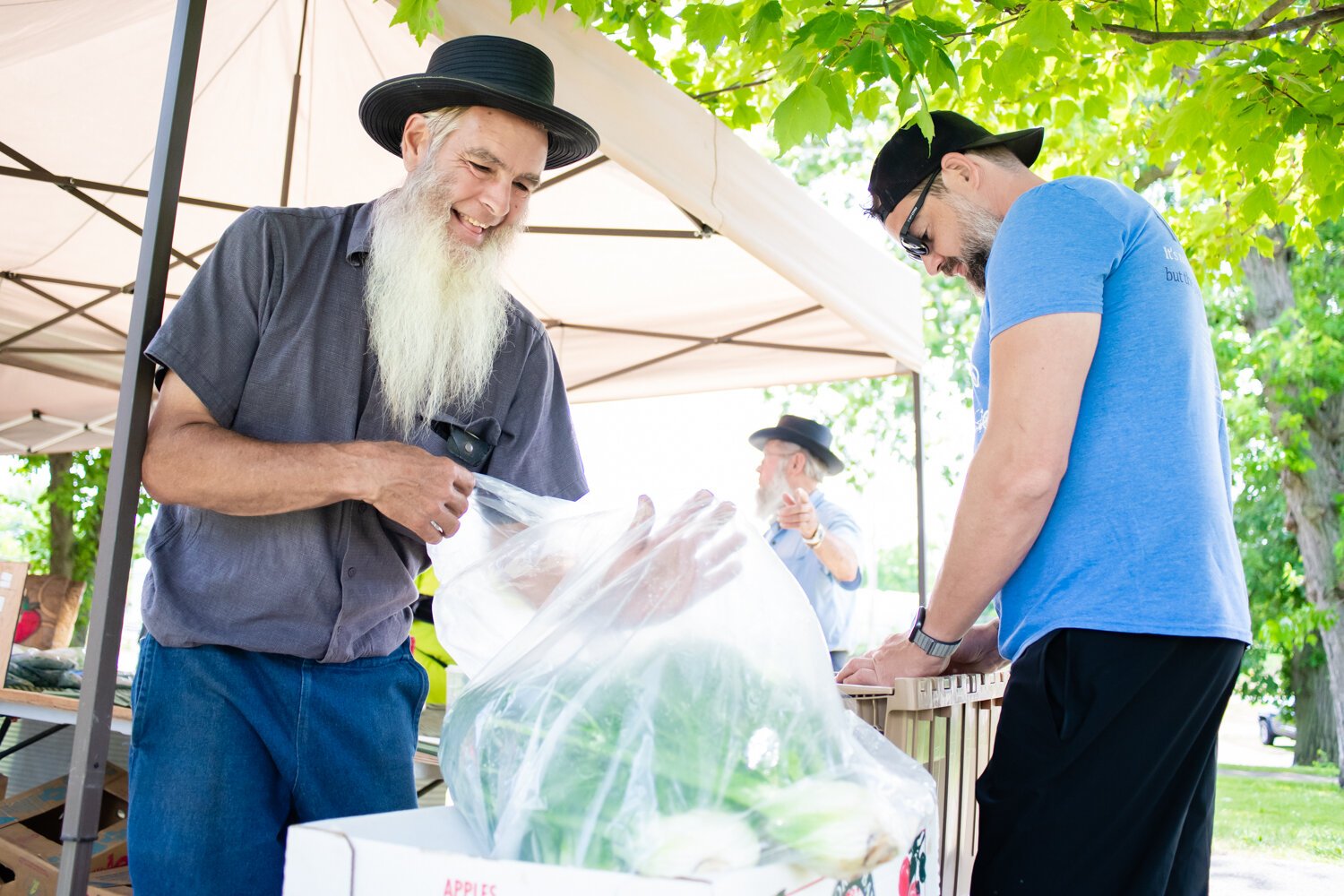 Myron Metzger with Berry Hill Farm helps customer Aaron Butts, Chef at Copper Spoon, with his weekly order during the Fort Wayne's Farmers Market at McCulloch Park on Saturday June 19, 2021.
Following Meter's 2016 report charting the major players in Northeast Indiana's local food scene and examining how they contribute to the region's economy, the volunteer-run Northeast Indiana Local Food Network emerged to further strengthen bonds between local farmers and food manufacturers. The goal is to keep encouraging more local residents to purchase food from local growers and to show the economic impact of this shift.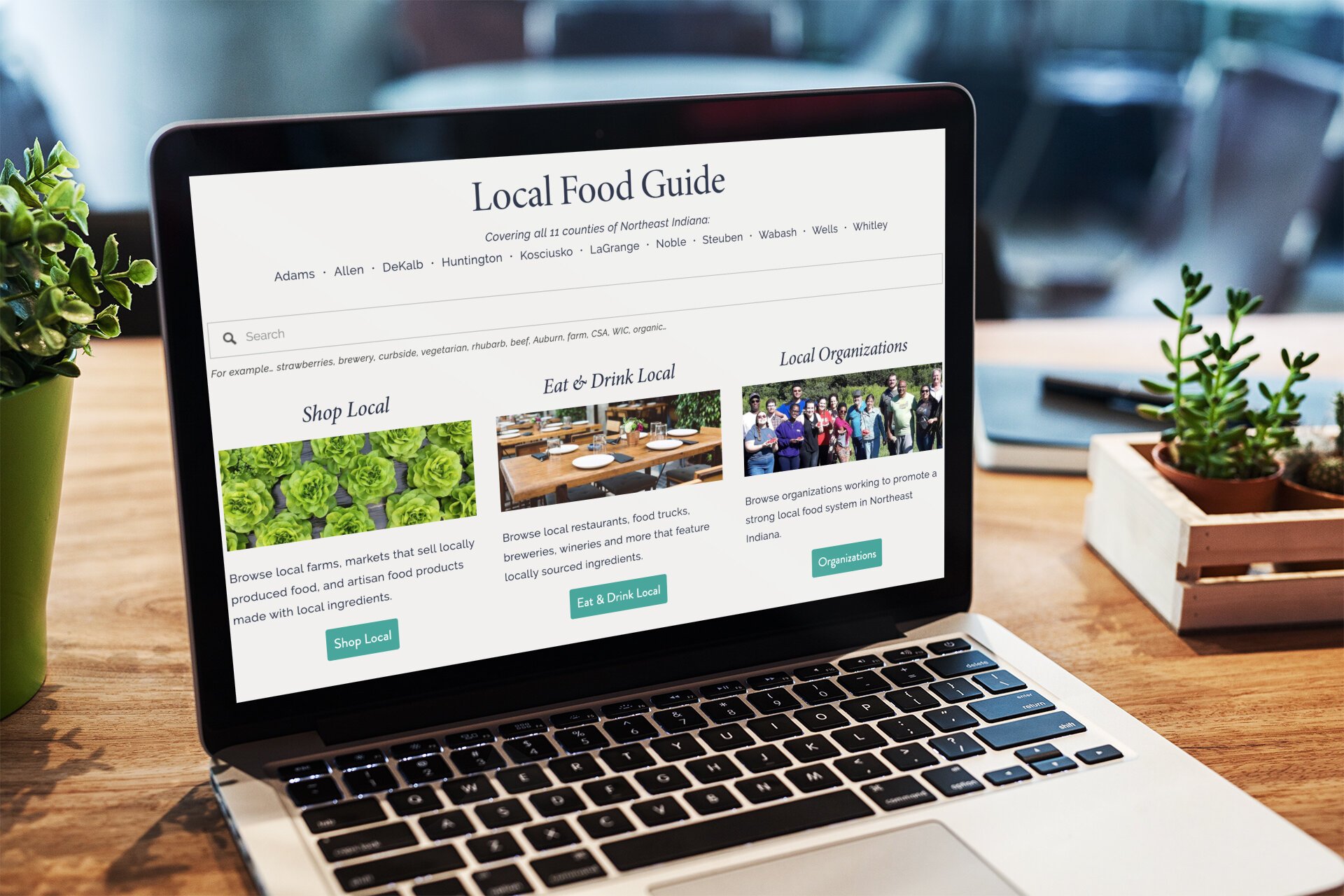 The Northeast Indiana Local Food Network launched a searchable Local Food Guide this week intended to serve farmers, producers, and consumers alike.
Among the food systems Meter has studied across the U.S., Vermont has one of the most advanced local food economies he's seen.
"They're about 30 years ahead of where Northeast Indiana is today," he says. Yet, even Vermont only grows and sells about 5-6 percent of its own food in-state.
One question local food advocates in Northeast Indiana are asking is: What could Indiana's ag sector look like if even 10 percent of the money residents are currently spending on out-of-state food was redirected to food produced by farmers in-state instead? 
In a July 2020 report by Input Fort Wayne, local farmer and businessman Pete Eshelman of Joseph Decuis, points out: "That would instill about $2 billion of revenue in agriculture in Indiana and help people be more food independent."
***
One key to helping more Northeast Indiana residents purchase local food instead of national or international exports is making local food more affordable at all income levels. With this in mind, the St. Joseph Community Health Foundation in Fort Wayne has identified nutrition and food insecurity as one of its key impact areas. According to its website, the foundation is working to ensure vulnerable, food-insecure individuals can access nutritious food with dignity and provide them with strategies that empower sustainable solutions.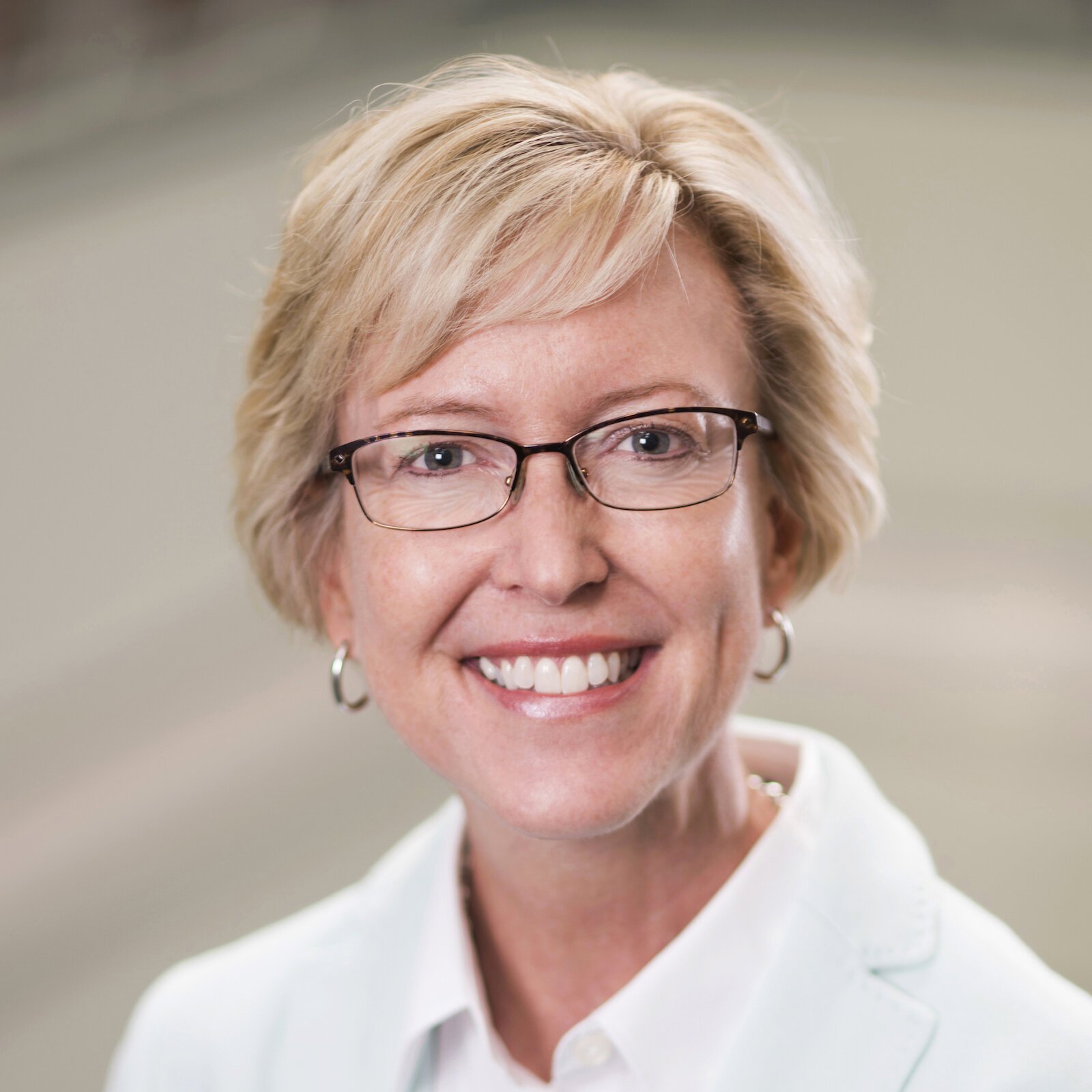 Mary Tyndall
With respect to solutions, local leaders like Mary Tyndall have a few ideas. She and other advocates have been thrust into regional food challenges during the pandemic and are seeing that there are practical considerations that need to be sorted out to strengthen the region's food network. As she explains, making market-fresh food available to people at all income levels can be a logistical issue with many layers of complexity. 
For instance, if you're a farmer and growing large amounts of produce, you might not have the time to set up shop at the local farmers market. It might not be profitable. At the same time, this means certain populations can't easily access fresh foods.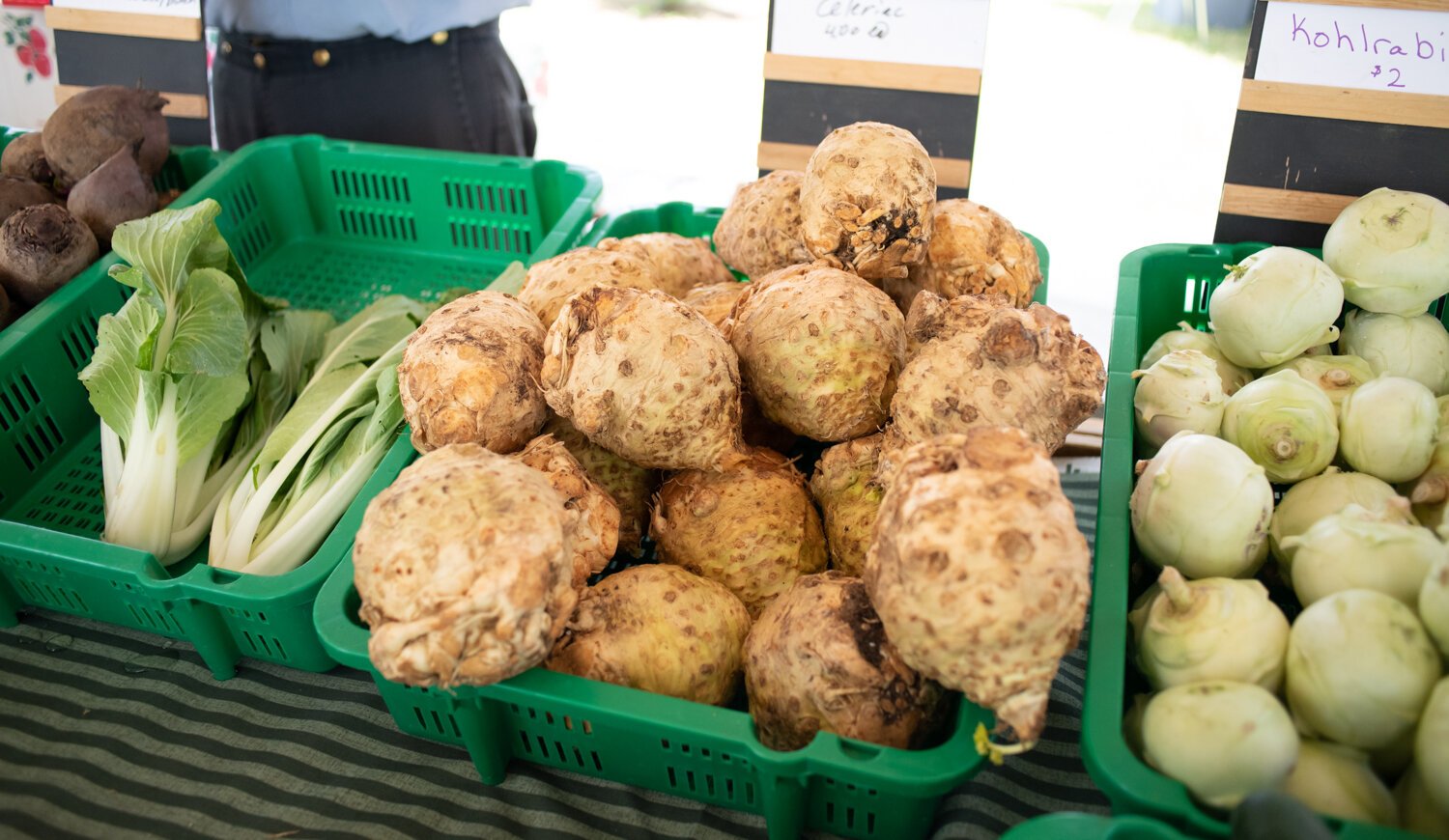 Fresh produce is displayed at the Berry Hill Farm table during the Fort Wayne's Farmers Market at McCulloch Park on Saturday June 19, 2021.
In her role as the Chief Storyteller and Double Up Program Manager at the St. Joseph Community Health Foundation, Tyndall and others at the Foundation are working to change that through their Double Up program. 
As the name implies, Double Up matches fruit and vegetable purchases dollar for dollar, up to $20 per day, when residents are using a SNAP/EBT card to purchase food. On the consumer side of things, it's seamless. In fact, HEAL Farm Markets, which the Foundation funds, make it easier to access fresh produce. The program has sites at McCormick Place apartments, Parkview Health Greenhouse, and the Southside Market. HEAL Farm Markets are the only farm markets in the Fort Wayne area to participate in the Double Up program. 
A HEAL Market sells food from Parkview Community Greenhouse & Learning Kitchen in 2019.
While the Double Up program is convenient for the consumer, would-be retailers and producers can have some hesitancy about participating in it due to the extra red tape involved. That's one challenge in scaling the program and using it at grocery stores, for example.
"When you have to interact with the grocery store point-of-sale system, it does become more complicated," says Tyndall, "Because they have to track the purchases and whatnot."
However, Tyndall is optimistic, as nationwide there's a concerted effort to develop point-of-sale systems that can easily process these transactions and provide a dollar-for-dollar match on produce. She's also encouraged by the fact that the U.S. Department of Agriculture has a working group that's putting together a team to look at all the technology solutions that can be available to make it easier for retailers and producers to sign on to the Double Up program. This, in turn, would increase consumers' options on the number of places they can shop.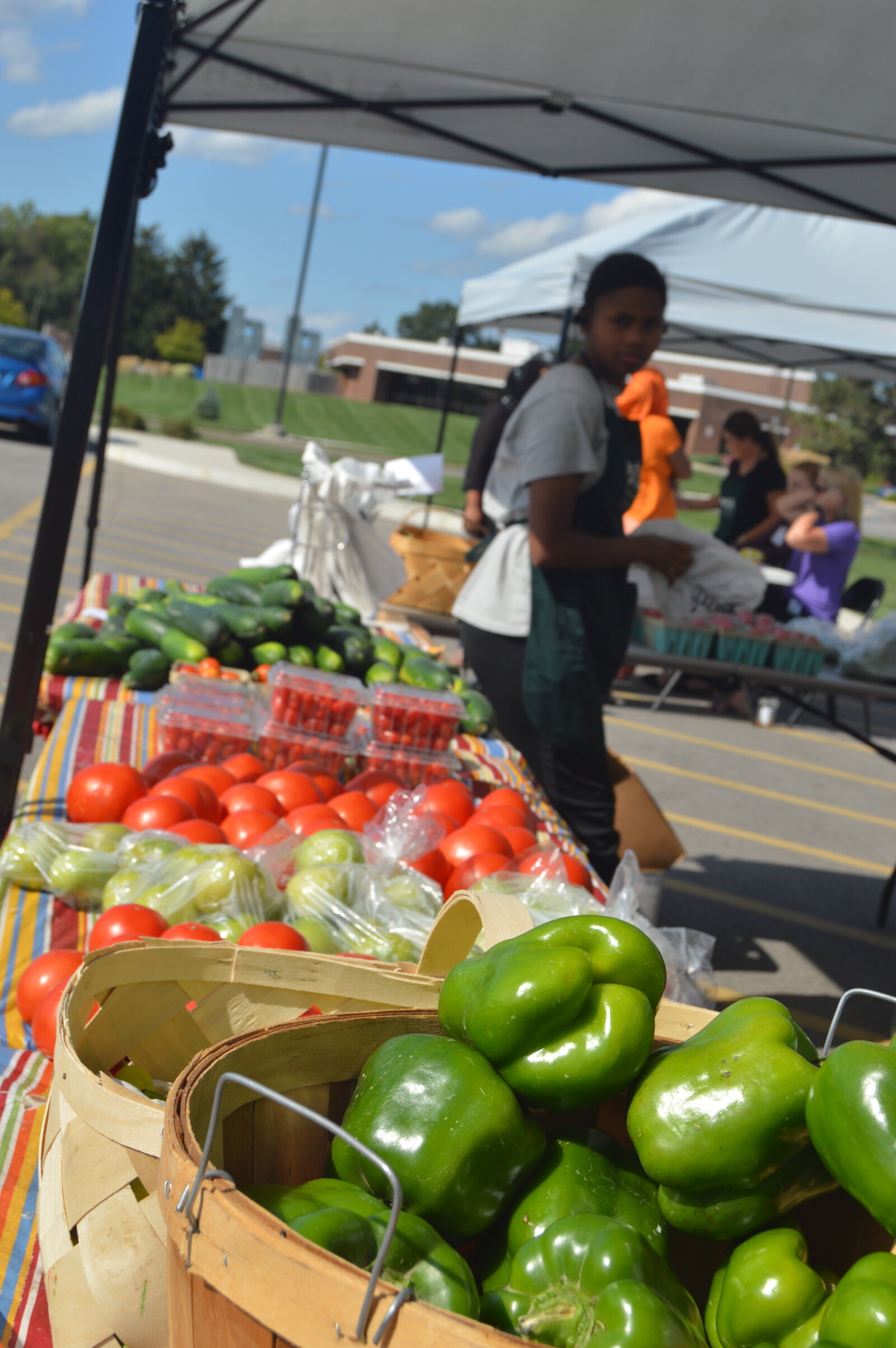 A HEAL Market sells food from Parkview Community Greenhouse & Learning Kitchen in 2019.
Although it may take a few years for these changes to create results, it's progress, Tyndall says. In the meantime, she and others at the Foundation, like Executive Director Meg Distler, are committed to keep seeking solutions. 
"We're working on some national models, and we're working with local people to bring in (concepts from national think-tanks) while also taking into account local needs," Distler says. "We need to look at what's sustainable in the long-term. That's the goal. I think we all saw recently how important food is."