2015 Carmel Guard Ryan Cline enjoys Indiana go to – Contained in the Corridor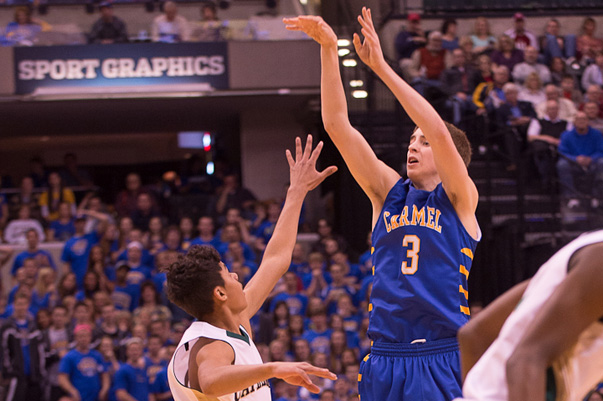 In the months since the 2013-2014 high school basketball season ended, the 2015 Carmel Guardian Ryan Cline population has continued to grow.
In late March, Cline was announced as part of the Indiana Junior All-Stars team, which will play Kentucky on June 6th and 7th. On April 18, he visited Purdue unofficially and received a scholarship. On April 30th, he was offered by Ball State.
Today Cline was on an unofficial visit to Indiana and attended an open gym that also included current players. The 6-foot-4,180-pound security guard said he "had a lot of fun" during the visit, during which he toured Cook Hall and learned a little more about the program.
"I got to know all the coaches, played with the players and talked to them," said Cline. "I also spoke to the strength trainer (Je'Ney Jackson) and it was just a fun experience."
Cline said he grew up with the Hoosiers – "I feel like everyone in Indiana," he said – and that the Hoosiers have started to show interest in him as a prospect.
He mentioned IU as one of the hardest hiring schools for him right now, along with Butler, Purdue, the state of Indiana, the state of Ball, Belmont, and Creighton.
He has additional offerings from Belmont, Lipscomb, South Alabama, and Northern Kentucky.
"But (the Indiana interest) means the same thing to me as it does to any other school," said Cline. "I'm just trying to keep my options open."
Cline is best known for his shooting skills, averaging 16.9 points per game and 43 percent 3-point shots for Carmel in his junior year. But Cline said of the Indianapolis Star's Kyle Neddenriep in April, "It annoys me a little when people think I'm just a spot-up shooter."
"I feel like I'm bringing a shooter, a good passerby, a leader and a man who knows how to win and wants to make himself and his team better," he told Inside the Hall. "I have to work on my athleticism and my ball handling the most."
And how does he intend to achieve this if his population continues to grow?
"I have to do the work in the weight room," he said.
Filed at: Ryan Cline